The Flawed College Football Playoff
The College Football Playoff is upon us. Here is a look at what to expect as well as the flaws of its format.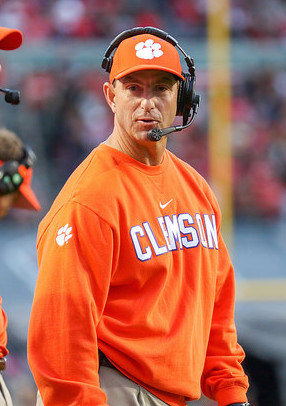 2020 has been full of surprises, but the 2020 College Football Playoff was not. Alabama, Clemson, and Ohio State are 3 of the 4 teams in the playoff competing for the National Championship. Sounds familiar, doesn't it? 
Some of your holiday traditions may be less familiar this year. Your dinners will contain far fewer guests, your visits with family will be virtual, and your gift shopping may be done online – but the playoff matchups you watch will stay the same. For the third time since the playoff was created in 2014, Ohio State and Clemson will face off in the semifinals. A Clemson win along with an Alabama victory over Notre Dame would give us our fifth matchup between Alabama and Clemson in the last six years. Clemson and Alabama have each made the playoff six out of the seven years that it has existed.  
Clemson, Alabama, and Ohio State will likely make people watch the same playoff games, as they consistently have some of the top recruiting classes. The more playoff appearances these teams have, the more recruits that want to win a championship will commit to their team. When it seems like almost no one else has a chance at winning, it makes it harder for many teams to recruit players that want to win a championship. An obvious solution to this problem is making it easier for more teams to have a title opportunity. 
An eight-team playoff would give every team that can compete for a conference championship a chance to win a title. There are five major conferences, so a playoff spot is basically guaranteed if you win your conference, but other strong teams that fell just short of a conference title will have a chance as well. This means quality teams from conferences such as the ACC, where Clemson reigns supreme, have an actual chance at making it without having to win the conference. Who knows – maybe even a strong team from a Group of Five conference could sneak in. 
Some very good teams have fallen short of the playoff due to its set of criteria. The 2014 TCU Horned Frogs were ranked at No. 3 in the country in both the AP and Coaches Poll, but ranked at No. 5 in the playoff polls. TCU dismantled Ole Miss in the Peach Bowl and sent a message to the committee. But the No. 4 ranked Ohio State Buckeyes, who got in over TCU, went on to win the title. Why can't both of these teams make the playoff? 
A few other great teams have fallen short because they did something unforgivable in the committee's eyes. The 2016 Penn State Nittany Lions headed into the selection show with a win over Ohio State, who was ranked No. 2 when they played; a Big Ten Championship; and a 9-game win streak. So what killed their hopes of a playoff trip? Losing 2 games. Penn State looked like a completely different team following a 2-2 start to the season, but that didn't matter. The Ohio State team that Penn State had defeated got the third spot and the one-loss Washington Huskies got the fourth spot. Ohio State would lose 31-0 against Clemson and Washington would lose 24-7 to Alabama. Might've messed up on that one. But an expanded playoff would reduce errors when it comes to picking teams, as a four-team playoff has led to tough decisions that left quality teams out. 
Notre Dame's selection at the No. 4 spot was controversial, but none of the teams that were in position for the fourth spot appeared capable of beating Alabama. Notre Dame is coming off of a humiliating defeat in the ACC Championship game to No. 2 Clemson, so people thought they shouldn't get in since they appear to have a nonexistent chance at beating Alabama. But No. 5 Texas A&M already had a shot at Alabama and was easily defeated. If the committee wanted the team with the best chance to win against the Crimson Tide, the Florida Gators would've gotten a rematch after falling just short in the SEC Championship game against Alabama. But they have 3 losses, and no team with 3 losses will make a four-team playoff.  
The fact that the No. 4 team is a double digit underdog shows how good Alabama is and how much better they are than most teams in the country. The reality is that the fourth spot will become bigger underdogs each year since they have to play juggernauts Alabama and Clemson, who keep getting better as they win more championships. This can be prevented, however, with an expanded playoff; over a few years, parity would once again be evident. After all, during the first few years of the playoff, teams at the No. 4 spot actually had a chance at winning. The first ever playoff in 2014 was won by the No. 4 ranked Buckeyes.  
Top tier schools will improve if they believe they can win. The problem is that the current playoff views one loss as a big deal, even if you play in a tough conference like the SEC. One-loss schools without a conference title can beat as many ranked teams as they want. In the end, even a one score loss can end their season.  
The tons of one-loss schools getting left out is bad, but undefeated schools getting left out is also an issue. Teams that are members of Group of Five conferences have no shot of getting in. UCF went undefeated and didn't even come close to the No. 4 spot. The Cincinnati Bearcats were undefeated this year, but finished lower in the rankings than two-loss Oklahoma. The undefeated Coastal Carolina Chanticleers didn't even make the top 10, despite having a ranked win against BYU. An eight-team playoff could finally give us a chance to see what Group of Five schools can do. It could also provide a big boost to the elite Group of Five programs. Group of Five school Boise State is an example of success against elite teams resulting in a major boost for the program. Multiple undefeated seasons and wins in prestigious New Year's Six bowls have turned Boise State into a well-known program. 
Other Group of Five schools could see a similar benefit if they manage to somehow make it into the playoff. But with a four-team playoff, any school not in one of the major five conferences can only dream of a real shot at the playoff. They still get an occasional New Year's Six bowl, but a win only results in "the other team didn't care about the game" comments. If you're a Group of Five school, you better fill up that schedule with quality opponents in order to have any chance. 
So as you prepare to watch some college football over break and possibly cheer on the school you will be attending, remain hopeful that the playoff will be expanded in the near future. Deserving teams would get in and new matchups would give us something to be excited for. An expanded playoff is better for everyone. Who knows – maybe your future college can finally break through if an expansion happens, and you can witness their playoff run take place.