Fly, Eagles, Fly: Season Update
The Eagles aren't just flying so far this year—they're soaring, diving, and doing aerial acrobatics. With a stunning record of 13-1, they've already clinched a playoff berth, and are looking to make a run for the Super Bowl this year. Most experts agree they are the best team in the NFL. Here's what makes them so great this year.
#2 Offense in the NFL
With stars such as Jalen Hurts (QB), Miles Sanders (RB), AJ Brown (WR), DeVonta Smith (WR), and Dallas Goedert (TE), it's no wonder they're averaging 394 yards per game and a whopping 29.4 points per game. Arguably, they are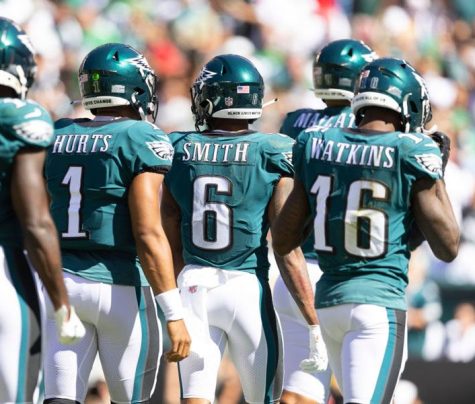 the second best offense in the NFL, just behind the Chiefs. Without fail, the Eagles have been performing amazing on offense. Jalen Hurts, with 747 total rushing yards so far, has as many yards in rushing as some top running backs. Their wide receivers in particular are extremely deep. DeVonta Smith was a 10th overall draft pick in 2021 and is their second-string wide receiver, and their third string, Quez Watkins, is also super reliable. This team has only been getting better; in their last 3 games their average PPG and YPG were 36.0 was 437, respectively, which are each significantly higher than their season averages. While Jalen Hurts recently sprained his shoulder and could be out for up to two weeks, this is just a bump in the road: once he's back, the Eagles are going to continue to dominate in the playoffs.
Well Roundedness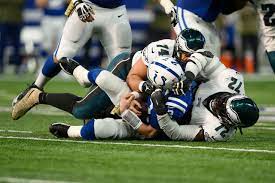 It's not just their offense that is carrying the Eagles to the playoffs. Our defense has significantly improved from earlier in the season, and even their special teams is performing well. After some of their key defensive players got hurt, they signed veterans Ndamukong Suh and Linval Joseph, both all-pro players in their prime. These defensive stars might not last us forever—they were one-year deals, and they're both getting old—they could be key factors in helping us win it all for this year. The Eagles' defense isn't as good as their offense is, but it's still a force to be reckoned with. They're averaging 293.5 opponent YPG (2nd) and 19.1 opponent PPG (6th).
Outlook
So, what's it looking like for the Eagles moving forward? Well, they are guaranteed to have a playoff spot, but they have yet to clinch their division (those pesky Cowboys are 10-4 and still in the running), but it's likely they'll end up on top and secure a bye in the playoffs (98.4% chance, according to TeamRankings.com). Eagles fans are hopeful that they'll be able to replicate their performance in Super Bowl LII and be able to take it all the way, and there's a good chance it might happen considering how the season is going so far.
In the long run, the Birds are also looking really solid. Some of their best players—Jalen Hurts, DeVonta Smith, Jack Stoll, Quez Watkins—are all under 25. Even Dallas Goedert, 27, hasn't played much until recent years and is likely going to be playing at least 4 more seasons with the Eagles. There's no way to predict with certainty what their future is going to bring, but there's no doubting the fact that the Eagles are the strongest team in the NFL right now. They're going to give whatever team they face in the playoffs a run for their money. Go Birds!