Old Rivalries Bring New Life to Football
With the West Bucks' football season well under way, it's time to look forward to the two most important games in our season: CB South and CB East. Students and players look forward to these rivalries all year, hoping to secure the bragging rights that come with a win. This year, the games are more important than ever, as they are the last two games on the Bucks' schedule. This means that these games could have a significant influence on West's playoff seeding.  
Any athlete or student at West will tell you that these district games mean more to them than any others. When asked about the games, safety Sean Blue said, "The energy is going to be high, especially with two good teams. I'm looking forward to coming out on top." Quarterback Ganz Cooper agreed with Sean, saying, "You can't beat playing in that environment with some of your old friends."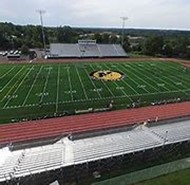 West has been absolutely dominant against their rival Central Bucks schools over the last few years, winning every single CB Cup game since October of 2018. Last year, the Bucks beat South's Titans 28-20 at home, and won 35-15 away at East. The Bucks are confident this year's extremely talented roster will produce another sweep for our school; as wide receiver Trey Laatsch said, "I am looking forward to a 4-peat." 
The Bucks look to continue their streak this year, with a game at South on Friday, October 21st, and another against East just a week later on the 28th. The games are sure to be must-watch football, so make sure to catch at least one of the two events. Go Bucks!