Looking Ahead to This Year's East-West Gridiron Clash
On October 30th, the Central Bucks West Bucks and the Central Bucks East Patriots are set to face off at CB East's Patriot Stadium for the annual East-West football game. Only this time, the stakes are a bit higher than before. This year's matchup also serves as the CB Cup championship game, as both squads have previously taken down the neighboring Central Bucks South Titans for a prime opportunity at claiming this prestigious title.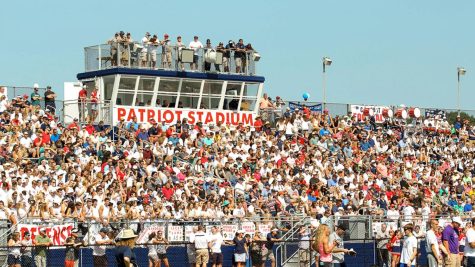 CB West is currently the two-time defending CB Cup champion, and they are not going down without a fight against the rival Patriots later this week. Not including the forfeit victory against Hatboro-Horsham on October 8th, West has won by an average of 18.2 points through six games this season and have a point differential of +76 across nine total games, according to MaxPreps.com. Similarly, East has won by an average of 16.7 points over six games this season, with a point differential of +78 across nine games played.
Over the course of this season, West's highest point total in a single game was 42 points versus Pennsbury on September 24th, winning 42-14 that night. During this same time frame, East put up 56 points twice, once against Pennsbury on October 2nd, and a second time versus Council Rock North on October 9th (East won 56-21 in both contests). Thanks to these games, fans of high-octane offense will likely be pleased with the outcome of this impending matchup between the Bucks and the Pats.
Even football enthusiasts who may be from outside of the Doylestown community can easily get interested in this rivalry – just ask CB West assistant football coach Victor Olear. "I am not originally from the area, so what really intrigues me about the rivalry is that you really can throw team records out the window as it will be an emotional hard-fought contest," Olear states. "The team that makes the least mistakes usually wins."
Anticipating what East's offense is capable of, Olear mentioned that it is essential for West's defense to stop the run game and continue to run the ball on offense. "CB East's offense this year runs the ball a lot more than previous years, so we need to stop the run and make them pass the football more. Offensively, we need to do what we do best, run the football to control the tempo of the game and keep their (East's) offense off the field." 
Olear is aware of what it takes to succeed against a team as tough as CB East, as he remembers what went down between East and West two years ago. "My favorite memory of coaching against East was the 2019 season. My son was a senior on that team. We went into halftime with the score 38-3. Our total team performance silenced a lot of doubters of how good we actually were up to that point."
Looking back, some of West's seniors reminisced about the good memories they have had against East and voiced their hopes for the ensuing match. "I would say I'm excited for the East vs. West game," says Garrett Sabol. "It's potentially the last time that we would play our biggest rival, and I want to keep the CB Cup for the third year in a row." 
"My favorite memory playing against East has to be beating East so bad our sophomore year that I played the entire 4th quarter at quarterback," adds Casey Smith. "Personally, I hope as a defense we shut them out." (Smith typically plays cornerback and tight end but was put in at quarterback due to Bucks head coach Rob Rowan removing then-starting quarterback Jack Neri from the game.)
CB West's War Memorial Field will serve as the site of a schoolwide pep rally on Friday, October 29th, a day prior to the football game. Advisory will be extended from the usual 10 minutes to 1 hour and 35 minutes, with students being dismissed to the stadium from their advisories at 9:15 a.m. and seated by 9:25 a.m. From there, the pep rally will occur for an hour until its conclusion at 10:25 a.m.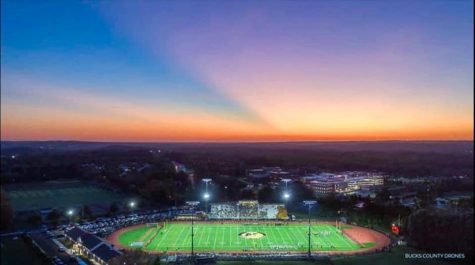 The annual East-West football game will be played on Saturday, October 30th at CB East's Patriot Stadium at 1:00 p.m. East is currently 3-0 at home, while West is 2-0 on the road. With the rival schools' near-identical records this season, Saturday's matchup should be an exciting game for both fans and players alike. This is one game that you will not want to miss.