Teacher Feature: Ms. Heidi Maurer, Social Studies
November 30, 2020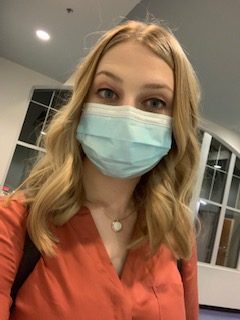 CSP: Where are you from? What high school did you attend? 
HM: Jamison, Pennsylvania. Central Bucks High School South (go Titans).
CSP: What college did you attend? What were your majors, minors, and certificates? 
HM: Ursinus College. I have my B.A. in History (History Major) with a minor in Educational Studies. I am a certified Social Studies teacher for grades 7-12.
CSP: Have you had any previous occupations before becoming a teacher at CB West?
HM: I had many different occupations that ranged from being a nanny, waitress, concierge at an Independent Living Facility, and a History and Politics Tutor. 
CSP: What subjects/classes do you teach? 
HM: Honors Modern World History, Introduction to Law, and Sociology. 
CSP: What is your favorite class that you teach? 
HM: Honors Modern World History. 
CSP: What are some of the challenges you have run into while teaching in hybrid and online styles? 
HM: Lack of student participation and engagement. Having to adapt all of my lessons to fit a hybrid/virtual environment, especially my interactive/simulation activities. 
CSP: How can students help you make the online/hybrid system most productive or effective? 
HM: By being active and engaged learners. Participate in class discussion!
"
Be active and engaged learners. Participate in class discussion! "
— Ms. Maurer
CSP: What is your favorite city to visit and why? 
HM: During my limited travels that I have had thus far, my favorite city to visit has been Philadelphia because of all the rich history that it has to offer. There are so many different historical sites to visit and different activities to do there. One of my favorite things that I have done is I have served as a foreperson in federal court at the Court House in Old City, which was an amazing experience. 
CSP: What is unique about your teaching style? 
My teaching style is a mix of everything. I like to do a mix of lots of interactive simulations, discussions, and student-led/driven activities. I want my classes to feel like an open discussion for my students.
CSP: What motivated you to become a teacher?
HM: My eighth grade and ninth grade social studies teachers at Tamanend Middle School motivated me to want to become a social studies teacher. Both of these teachers made history fun and interesting. I also wanted to be able to help people learn and find their true potential. The impact that teachers have on the lives of students is immense. The idea of being able to play a role in the growth and development of a student's life and to help them discover who they are/what they are going to be, is amazing. 
CSP: Fill in the blank, "In my opinion, a good student…"
In my opinion, a good student is self-motivated who cares about learning. A good student is someone who comes to class with a positive and respectful attitude. A good student challenges themself by seeking new learning opportunities that expands their knowledge outside of the confines of the classroom. A good student is adaptable to new situations and different types of teaching pedagogy. Especially in this COVID environment where everything is constantly changing, it is important for students to be both willing and able to adapt to these changes. 
CSP: What are some of your favorite things? 
HM: My favorite food is a German dish called Rouladen. My favorite movie is Remember the Titans. I love the Philadelphia 76ers – they are my favorite sports team. I am very creative and artistic. In my free time I like to do different creative things such as painting, pottery, knitting, drawing, etc. I also like to bake. In terms of music, I enjoy hits from the '60's/'70's and also music from the 2000's. 
CSP: What is one thing you want students to know about you? 
HM: I love gaining new knowledge and ideas from my students. I also love the outdoors and spending time in the mountains.