Taylor Swift: The Eras Tour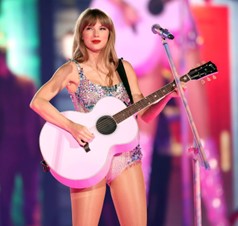 The weekend of May 12, 13, and 14, Taylor Swift performed her sold-out hometown shows at the Lincoln Financial Field in Philadelphia. After five years of not performing any live concerts, earlier this year, Taylor announced that she would be going on tour once again. However, this time she would be performing songs from all her different albums like Red, 1989, Reputation, etc. Fans rushed to Ticketmaster to get the tickets, causing a huge crash on the site. Those lucky enough to get through, however, were able to see Swift on either of the three nights Taylor was in Philly.
The night started off with amazing openers, including performers like GAYLE, Phoebe Bridgers, and Gracie Abrams. Then, fans counted down till Swift took the stage. Throughout the show Taylor performed some of her hit songs like "Blank Space," "All Too Well," "Shake it Off," and so many more. In total, Taylor performed 44 songs, making her setlist 3 hours and 15 minutes long. During night one in Philly, Taylor performed "Gold Rush" and "Come Back, Be Here" as the surprise songs. Then, on night two in Philly Swift performed "Forever & Always" and "This Love." On her final night of her hometown shows, Taylor sang "Hey Stephen" and "The Best Day," whom which she sang about her mom since it was Mother's Day.
Throughout the three nights Taylor was in Philly, there were many stars present at her shows. On night one, celebrities like Blake Lively and Sabrina Carpenter were present at her show. Then, on night two, one of Taylor's friends, Gigi Hadid, was there to cheer her on. On Taylor's final night in Philly, celebrities like Keith Urban and Jennifer Lawrence were present in the crowd. Overall, Taylor Swift's performances in Philly were filled with many screaming fans, crazy outfits, and overall love for Taylor and her music.