What's Up With Jazz 2?
Jazz 2 is one of the CB West Music Department ensembles, but some people might not know much about it. Read here for an interview with Jazz 2 director Mr. Carson to learn more about this phenomenal group!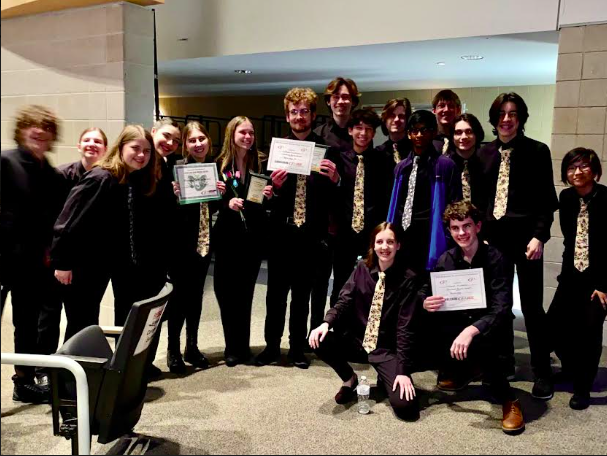 Q: What is Jazz 2? How would you describe it to someone who isn't a member?
For those unaware, Jazz 1 (a.k.a. Jazz Ensemble) is an actual class that runs during the day at C.B. West that requires an audition to enroll. This course focuses on playing challenging and rewarding music as a "big band," but is a large commitment for many students, especially sometimes due to AP conflicts. Jazz 2 (a.k.a. Simba's Pride) meets after school, meets only once a week, and is open to all students including 9th graders! It's a great way to prepare for Jazz 1 in the future, have a preview of high school ensembles as a 9th grader, or even just to enjoy jazz music at a more casual pace.
Q: How long has it been running at West? How long have you led it?
Jazz 2 has been an ensemble since Mr. Neil Delson first became band director in 2010, although it may have even been running before that. 2010 was actually when I was a high school student! I started leading the ensemble in the 2018-2019 school year and have been running it ever since. It's an incredible (and slightly weird) thing to be the director of a group I was once a student in.
Q: Who is able to join?
As stated above, all CB West students with a passion for playing music! The group is also open to 9th grade students from Lenape and Tohickon.
Q: What specific types of jazz music do you like to introduce to the group?
I enjoy giving the ensemble a range of styles to see what everyone likes best. We play everything from Ella Fitzgerald & Count Basie all the way to Snarky Puppy and Sammy Rae…we even played an Usher tune one year. Introducing music from the 50s and 60s is a fantastic way for everyone to experience what it's like to be a performing Jazz Ensemble (and to learn about the tradition of "big band") but bringing in more modern music allows the ensemble to experience performing as professional musicians today.
Q: What is Jazz 2 working on right now?
An unexpected amount of our instrumentalists are actually singers, so we're in the process of learning songs where the band accompanies vocalists! Look out for songs by Frank Sinatra, Edith Piaf, and Sammy Rae & The Friends.
Q: What skills or knowledge do you hope students take away from their time in the group?
I hope our students take away an appreciation for the jazz tradition, a sense of pride in their skills as performers, and a fabulous time as a group of friends!
Q: What's your favorite thing about being part of it?
My unquestionably favorite part of the ensemble is seeing the students collectively get excited about music they otherwise would have never paid attention to, especially if that music is suggested by one of the students. Group enthusiasm is one of the greatest aspects of being in a band!
Q: Do you have a favorite memory from your time with Jazz 2?
Of course, my favorite memory actually predates my time as a director: the origin of the nickname "Simba's Pride." Jazz 2 performs at local jazz band competitions, and in 2011 some of the students pranked the judges and audience by having the band be introduced using the Wikipedia plot summary to Lion King 2: Simba's Pride, followed by playing "Circle of Life" as the curtains opened. Once I became director of the ensemble, I knew I had to bring that name back.
Q: Is there anything else you'd like to add?
Come join the band! Whether you play a band instrument, an orchestral instrument, your voice, guitar, drums, harp, synth, jaw harp, or even bagpipes, it's my goal to have a place for you in this group. I hope to see you soon!