Daisy Jones & the Six Review
Taylor Jenkins Reid's New York Times bestselling novel Daisy Jones & the Six is a beautiful depiction of the alluring rise and chaotic fall of a 1970s fictional band. Reid captures the glamour, freedom, talent, and agonizing addiction that will remind any reader of Fleetwood Mac. Include the will-they-or-won't-they tension between Daisy and the Six's married leader, Billy Dunne, and you'll understand the enormous appeal to the readers of "BookTok," which helped sell more than a million copies of the book.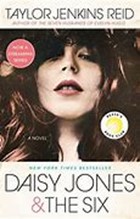 It's a book meant for television. Literally. It's structured as if the members of the band are being interviewed 40 years after their tortuous breakup. Each band member's interview contradicts those of their peers and illustrates the self-absorbed perspective that follows any rockstar (even after their prime). It came as no surprise when Amazon Prime announced the television series in the summer of 2019. The series is produced by Reese Witherspoon, as well as the producers of 500 Days of Summer, Scott Neustadter and Michael H. Weber. For the following year the cast was announced piece by piece. Big names such as Suki Waterhouse, Camila Morrone, and Sam Claflin joined the likes of Sebastian Chacon and Will Harrison. And who could forget Daisy Jones herself: Miss Riley Keough, the granddaughter of Elvis Presley. Despite her granddad's career, Keough had never considered herself a singer; that is, until this show. The songs featured in the show are sung entirely by its cast, with several of them just recently learning how to perform. The music is authentic, raw, and alive.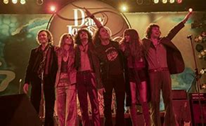 For the last three Fridays in March, three new episodes have been released on Amazon Prime. The book has truly come alive. The chemistry between the bandmembers is thrilling, the songs edgy, and the style vintage. Though I understand the idea of a book, television show, and album all in one is a strange one, Billy Dunne puts it simply; "Same old rock 'n' roll story. The drinking, the drugs, the loneliness."