Club Dispatch: Ukrainian Club

Ukrainian Club, which is hosted on Wednesdays after school in Mr. Blake's room (A212), is one of CB West's newest and coolest clubs. This club is student-led (with the help of Mr. Blake) and is working to educate, empower, and assist all of those who have experience with the Ukraine war and care for the cause. For this dispatch, I interviewed Anthony Mokhon, the founder and leader of Ukrainian Club.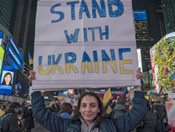 In simpler terms, Ukrainian Club is an amazing outlet for all of those who would like to support and learn more about the war in Ukraine. The Ukrainian Club holds their meetings every Wednesday after school from 2:30pm-3:30pm in room A212. We hope to see you there!