Midnights: Album Review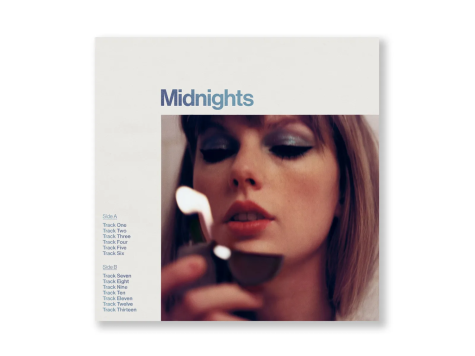 Since that fateful announcement at the MTV Video Music Awards on August 28th, Taylor Swift's fans eagerly waited until the day they could stream her new album. With this being the most recent studio album since evermore was released in December of 2020, her fans weren't sure how this new album would sound, especially since Taylor has been known to go all over the map when it comes to musical genre. As an avid fan of her music, I, too, made my predictions, but what I heard during that first listen was far from what I expected.  
Taylor Swift's highly anticipated 10th studio album was released on Friday, October 21st, 2022. The album, titled Midnights, features 13 songs, with a runtime of about 44 minutes. The 3 AM edition provides seven additional songs, bringing the total to almost 70 minutes. She credits singer, songwriter, and producer Jack Antonoff as her partner in creating these songs. The fourth track, Snow on the Beach, features singer-songwriter Lana Del Rey. Taylor Swift also wrote and produced music videos for the lead single Anti-Hero and for Bejeweled, with a third, unidentified (as of yet) video on the way. 
According to Taylor, the album follows "13 sleepless nights" throughout her life. Each song was supposedly written in the middle of the night, and the lyrics describe the thoughts that keep her awake: ones about love, self-image, regret, reflection, and even revenge. Personally, I thought this was a fascinating concept for an album. The idea feels like she is connecting to her audience by sharing from a perspective that feels lonely in the moment but is an experience most can relate to.  
As early as the days after the album dropped, Midnights was breaking records. It had the biggest streaming week of this year, as well as the third-largest streaming week for any album. On Spotify specifically, it became the most-streamed album in a single day, and the album's success led to Taylor Swift breaking the record for most-streamed artist in a single day on the platform. At one point, songs from Midnights made up all the top 10 spots on Billboard Hot 100. Taylor was the first artist to ever accomplish this.  
It's easy to understand how this album achieved such great success when you listen to it. All aspects—lyrics, music, production—are amazing and fit together so well. Taylor's versatility is even more impressive. She is able to include a melodic song about falling in love right before an energetic pop song about her karma. My favorite aspect of the album, something I think can be seen across every song, is the rhythm. You can clearly hear the driving beat behind the lyrics. This undoubtedly contributes to the songs being extremely catchy. In my opinion, some of the best examples of these rhythms are songs like Midnight Rain, Maroon, Question, and The Great War; coincidentally, those are some of my favorites from the album.  
"
All aspects—lyrics, music, production—are amazing and fit together so well."
Another notable aspect of the album is the focus on production. In past albums, it felt like the songs were mostly comprised of instrumentals and vocals. However, Midnights is heavily shrouded in synthesizer bass and sounds. Some songs, like Midnight Rain, even include distorted vocals. At first, I found some of it off-putting. However, as I listened more to each song, I realized that these musical production choices gave the album more of an edginess that aligns with the nighttime, almost dreamlike feel of the music.  
I was slightly apprehensive about this new album. I assumed it would be similar to her two most recent studio albums, folklore and evermore. However, this album took me completely by surprise. The variety in the songs provides something for all fans. We get a glimpse of her pop past with songs like Paris and Karma. We're reminded of her storytelling in songs like Bigger Than the Whole Sky and High Infidelity. And while many songs focus on relationships, songs like Anti-Hero and Dear Reader show Taylor reflecting on her successes and struggles as a female singer-songwriter and as an individual. I'm sure many people, both hard-core Swifties and casual listeners, would agree that this album does not disappoint.