Central Bucks' Spectacular Plays
One weekend of pure magic was pulled off by both West's and East's theater departments! From October 17th-20th, the amazing students of both high schools put on plays that highlighted the sheer talent of their actors and crew. Students from West performed Rent Jr., while East performed The Little Mermaid Jr. The plays were vastly different from each other, yet each enraptured the audience and astounded viewers.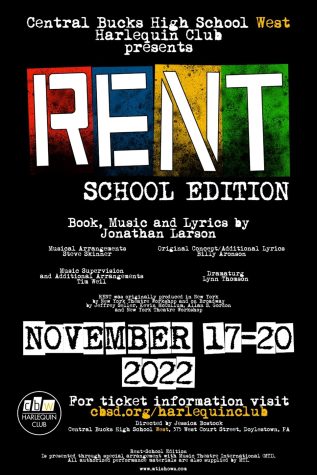 Rent is about a group of friends living in New York City during the 1980s during the AIDS crisis. The friends fight, fall in love, mourn, and celebrate together. Most importantly, they try to find their identities in a world that seems determined against them. The Little Mermaid is a beloved fairytale about a young mermaid who yearns to find true love. She takes a journey out of the ocean with some help from her aquatic friends while trying to avoid her enemies. The plots of each play contrast each other greatly. Rent is set in the real world, while The Little Mermaid takes place in a fantastical world with sea monsters and talking fish. However, both plays revolve around themes of found family, truth, defiance, and love. Everyone can find a piece of themselves in each character.
The costumes of each musical were excellently executed. In Rent, many actors donned flannels to keep warm in the biting cold of New York City. Angel the drag queen sports fabulous outfits for every appearance. All the clothing reflects the actual clothes worn during the time period, with 80s trends subtly hinted to. The costumes in The Little Mermaid were colorfully over-the-top. Ursula's costume spilled over the stage, while Flounder's swam around on stage. Many of the mermaids and sea creatures wore wheeled shoes in order to create the effect of gliding across the stage.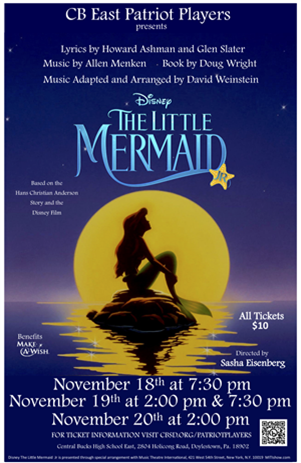 Both plays used music and special effects to their advantage. East used a soundtrack to add a whimsical, joyful feel to each scene. The actors' vocals complemented the soaring melodies perfectly. West, on the other hand, used live instruments, many of them played by the school's very own students. They played each song and sound effect in time with the actors. The students excelled in their performances and added a personal touch to every show. In regards to special effects, West simulated power outages with sound effects and light. East created storms at sea using huge, waving pieces of fabric. Each added a little something extra to their respective plays.
The products of both schools' hard work were technically spectacular shows that both broke the audience's hearts and made them soar. Congratulations to the cast and crew of East and West!