Glass Onion Movie Review
Expectations can effectively "make or break" a popular movie. Sequels enhance or poison entire franchises, and Glass Onion confidently aligns itself with the former. 2019's Knives Out formulated the thriving genre of witty,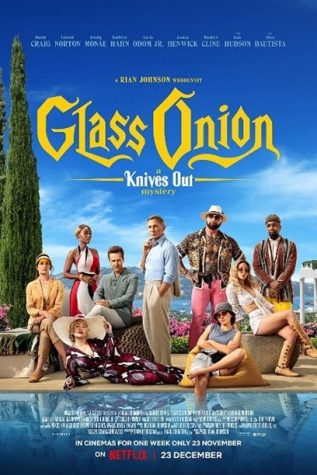 unique, collaborative films, and Rian Johnson's newest escapade into an on-screen game of "Clue" lives up to the high standards. Complementing the smaller, yet richer, cast are colorful backdrops, twists upon twists, and tropical themes. 
Finding himself intertwined with a high life, luxurious mystery occurring during the infamous COVID-19 lockdown, Benoit Blanc (Daniel Craig) attends a get-together between lifelong friends and their tech mogul host Miles Bron (Edward Norton). Glass Onion's mystery is a realistic exploration of the nature and themes of secrets, revenge, and pressure. Very few plot details feel contrived or forced and are amplified by creative tension and impressively smooth dialogue. Details are hidden in plain sight, or out of view of the audience, yet almost never make the viewer feel unaware or oblivious to their contribution to the mystery.  
The cast, along with their interactions and development, are the truly exceptional portion of Glass Onion. While the bold cast portray well-known stereotypes, no speech, monologue, or argument feels unnatural. Benoit Blanc is far more energetic, fun, and supportive than in Knives Out (accompanied by a slight change in his accent). He encourages some characters to overcome intimidation and is painted as a creative mentor. Andi Brand (Janelle Monae) and Birdie Jay (Kate Hudson) showcase themselves as the definite standouts. Andi is enigmatic, mysterious,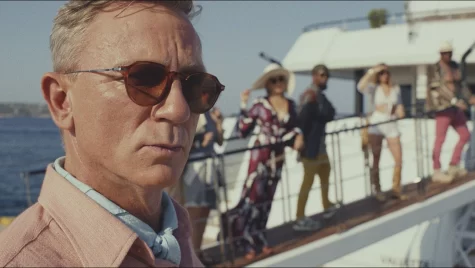 and dynamic, and commands any scene involving her. Birdie, while presented as the most blatant stereotype, generated the most laughter than any other character, and is a great mood-change in some serious scenes. Portrayals from Edward Norton, Katherine Hahn, Leslie Odom Jr., and Dave Bautista fill any space generated from the significantly smaller cast. Character design is flawless, ranging from Hahn's runny eye makeup and Norton's Mark Zuckerberg-esque clothes to Odom Jr's stoic style and Bautista's brash display of weaponry. Motives are present for every character and are all generally believable.  
While I observed the score as not noticeable, appropriate music is chosen for influential scenes. The creative and colorful framing, art style, and direction set the mood for a sunbaked Greek vacation, as well as aid the misdirection apparent in the later stages of Glass Onion. Swinging cameras display character and motive development. Faces are shown through warped glass vases and windows, and only aid the never-ending excitement that comes with deducing the mystery.  
Glass Onion bears the weight placed on it by the stellar production of Knives Out, yet rarely buckles. Its performances, directing, and important story themes are of stellar quality, creating a unforced, natural discovery that "you get what's coming to you." Glass Onion previews in theaters from November 23rd to November 29th and will be available to stream on Netflix on December 23rd.