Frenemies: The Harlequin Club's Annual Fall Cabaret
On the night of October 1st, West's drama club, the Harlequin Club, presented Frenemies, which is the title of the 2022 Fall Cabaret. Members of the club from all grades were able to perform a song, or songs, of their choice, either a solo or duet. The Cabaret showcased the striking talent of the club, all while raising money via donations and concession funds for future club projects and opportunities. The performance was open to all who wanted to attend and streamed live on Instagram and Facebook.
Harlequin Presidents, seniors Anna Shea Safran and Garrett Falkenstein, hosted alongside Vice President and junior Griffan Arbogast. In between performances, they entertained the audience through witty dialogues, following the "Frenemies" theme. Anna Shea and Garrett had ongoing arguments about who is the better president and other playful disputes, as Griffan attempted to keep the peace. Each of them also had musical renditions of their own throughout the show of nine other students, with twelve songs total. With a range from breathtaking emotional ballads to hilarious comedic duets, there was something for everyone in attendance to enjoy.
The Cabaret was almost entirely put on and run by the Harlequin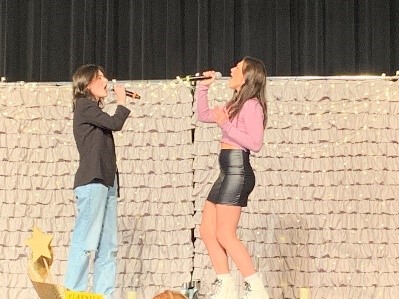 Club student members. Griffan and Anna Shea hosted auditions, Publicists Katie Meeks and Molly Cochran advertised and promoted the show, and club Tech Liaisons Samantha Herb and Leo Tirone worked out all technical aspects of the show. Fundraising Liaison and performer Jackson Manning organized a raffle and concession stand to help raise money to allow for more productions such as this. All performers set up the beautiful stage, creating a magical ambience, and many Harlequin members who were not involved in the cabaret went to the show to support their friends.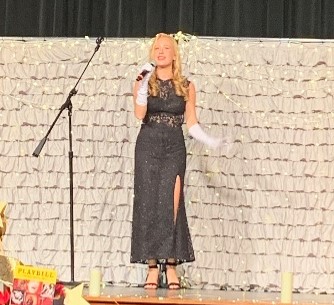 The Fall Cabaret is the first of many opportunities the community has to see the theatrical talent of CB West. There will be a Spring Cabaret in the later months of the school year, along with the Spring Musical Anything Goes. Most excitingly, in almost two months, the Harlequin Club will present Rent, hitting the stage November 17-20. As shown by the praise the cabaret received from attendees, this year for the Harlequin Club is off to a spectacular start.
Leave a Comment