AP Exams: Tips & Info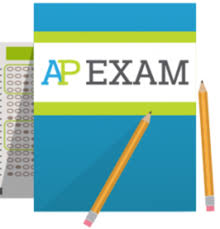 For many students, taking an in-person AP Exam–or just any AP Exam–might be something new, since many of last year's exams were online. Here's a quick list of some important tips and info that might help you on test day!
There are make-up dates if you have another obligation.
If you have an important sporting event or any issue that you are aware of in conflict with your exam, check the make-up exam dates. Also, check this page to ensure you won't have to pay any fees. Ask your counselor if you think you will need to take a make-up exam.
Be there 10-15 minutes early!
Don't be that person who is stopped at the door since testing has already started–make sure you get there a little early to avoid missing your exam. Check your pink sheet of AP Exam dates and times that you're taking and make sure you know when and where you need to go on test day!
Bring a snack and water!
Most proctors allow water as long as it's under your desk, and during test breaks, it's also nice to have a quick snack to regain some energy, especially if it's a longer test. Most tests have ten-minute break in between sections, and it's important to walk around a little to stay awake and aware. And of course, make sure to eat breakfast the morning of! Food and drinks will only help!
Scores will be released around July.
Some AP Exams have already been completed, as last week was a big exam week. If you've already taken your exams, you can expect your score to arrive around mid-June to July, however many exams release free-response or short answer questions 2 days after the exam. A quick search of "European history AP Exam free response 2022" should work, but keep in mind that not all exams release answers that fast, and scoring guides are not available yet.
If it's a math exam, make sure your calculator is charged.
Many math AP exams are coming up next week, and most of them have sections requiring a calculator. If your calculator has batteries, replace the batteries before your exam and test it to make sure it's working. If your calculator is a plug-in, make sure you charge it the day before. It's also not a bad idea to bring a back-up calculator just in case you need it!
Don't stress or cram the night before. You know more than you think!
Stressing about your exam will only hurt you–have confidence! CB West is a great school with great teachers, and they've prepared you well. It can be helpful to review key concepts or do a couple practice problems before your exam, but don't overdo it. Cramming until 1am will hurt more than help!
Hopefully you found this list helpful, and if you have an AP Exam, good luck! Remember–it's just a test, the fate of the world isn't on the line. Do your best and you'll do well!