Bites For Bucks: Delizia Pizza
Right by the 7/11 in New Britain is a new pizz
eria called Delizia! This store used to be a different pizza place that was below average, so I was excited to try the new version. The outside now looks modern and updated, and the inside is just what you expect from a small pizzeria, atmosphere 9/10. This menu contains an assortment of upper-class pizza, with ingredients such as prosciutto, goat cheese, and artichokes as well as the classics like Hawaiian, Brooklyn, and additionally, a variety of vegetables. Even if you are not in the mood for pizza they offer salads, wings, hoagies, wraps, strombolis, and calzones, all with classic, American, and innovative flavor combinations. This menu receives a 10/10!
To eat we got two pizzas. The first was Goodfellas which is White Pizza with prosciutto, cherry tomato, fresh basil, and I added artichokes. There was actually a healthy serving of prosciutto on the pizza, which restaurants tend to skimp out of, and the flavors,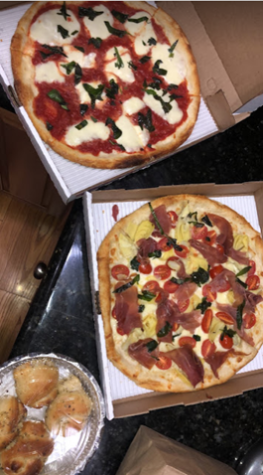 texture, and freshness of the pizza all worked really well. There was little to no grease which I look for in pizzas, and even my mom who is VERY particular about pizza (growing up right outside of New York) said the crust was exquisite. My pizza scored a well deserved 9.5/10. 
The other pizza was a little more classic, Margherita with red sauce, mozzarella, fresh basil, and olive oil. The crust and grease level once again served, but there was a little less flavor in this pizza. It scored a 7/10. I will say that these pizzas are not the move if you are looking for classic, dripping, melty cheese, but I did not try the plain pizza so I cannot say they do not offer this at all. 
We also got garlic knots. Despite the success of the pizza, the garlic knots were not garlicky or greasy enough for my liking. A little too bland, but still good texture. I give the garlic knots a 5/10.
Overall, I am really excited to go back to Delizia and try more of the menu, and really recommend checking it out! We ordered on a Saturday at 6 and our order was ready in 20 minutes, so 10/10 on service. It's overall score was a 40.5/50.