Bites For Bucks: Savona
A little far from the normal reviewed eateries is Savona, located in Gulf Mills about 45 minutes away, close to Bryn Mawr. As you pull up to the farmhouse-looking Italian restaurant, you are greeted with complimentary valet and adults dressed in fancy dress clothes. It appears to be a very high scale, fine dining establishment, but when I went for Valentine's day it defied expectations.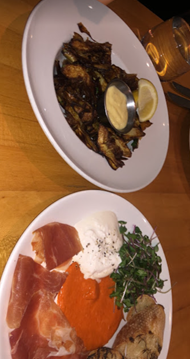 The atmosphere feels like forced fanciness, the valet and coatroom defy the décor and the mediocre, confusing layout. Atmosphere receives a 3/10. The apps we ordered also defied the fine dining feel (and prices). We started with the Golden Fried Artichokes, with lemon zest, sea salt, and citrus aioli. We accompanied this with the Burrata served with aged Prosciutto and Grilled Baguette. The appetizers were the highlight of the meal simply because with these dish combinations it is impossible to go wrong. The artichokes were flavorful and crispy, and the citrus cut nicely through the fried flavor. However, for $15 I expect more complex flavors and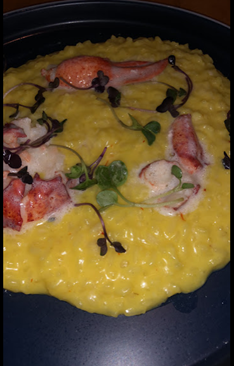 something that really wows me, as opposed to the artichokes which reminded me of any fried dish I could get at any lower scale restaurant. The presentation of this dish also did not match the fine dining atmosphere. Burrata and Prosciutto are two of my favorite foods, so I find it impossible to mess up the combination. That being said, the Burrata was more like a glob of cream cheese(ish), and we only got two slices of baguette. I would have liked more of every aspect of the dish, as it was $17. The appetizers receive a VERY generous 6/10.
The scores only got lower from here. For our entrees we ordered the Risotto with Lobster and Saffron and the Braised Beef Short Rib with Sauteed Spinach and Crispy Onions. Risotto was really the main part of thi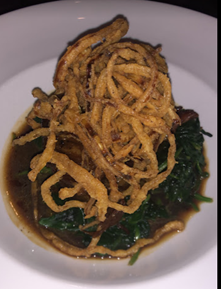 s dish, as it only came with three bites of lobster which needed lemon, salt, or some other type of seasoning. The risotto itself was also disappointing, as it was flavorless and did not taste cooked all the way through. As for the short rib, it fell off the bone. Success! But unfortunately it was also bland and only helped with the average sauteed spinach and crispy onions which reminded me of onion rings. For $64 collectively on these two dishes, we should have stayed home. GENEROUS 4/10 for entrees. Bang for your buck, on our $120 bill, obviously receives a 0/10.
Service was… alright? As kids in a restaurant full of adults we felt neglected, and the waitress seemed rushed when I asked her advice on what to get. She was friendly though, so service receives a 5/10. This brings the cumulative score up to 36%. Needless to say, I recommend a cheaper, more delicious restaurant as opposed to Savona, which claimed to be fine dining but just up charged bland food.