The French Dispatch – A Love Letter to Journalism and French Cinema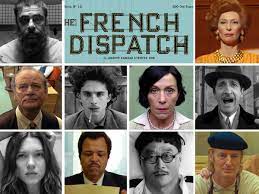 Through Wes Anderson's movies he explores the conceptual aspects of what it means to be truly abstract in film. Cinematographers working with him have remarked that they were asked to film the impossible; this boldness has once again been brought out through his latest film, The French Dispatch. No review will fully be able to prepare you for this colorful, life-filled salute to journalism and French cinema; it is simply an experience that demands to be had. Anderson portrays his experience as an American living abroad, through the Kansas born editor Arthur Howitzer, played by Bill Murray and based off the founding editor of the New Yorker, Harold Ross. The star-filled ensemble cast includes Bill Murray, Owen Wilson, Timotheé Chalamet, Adrien Brody, Tilda Swinton, Frances McDormand, and Jeffrey Wright. Between the vivid colors, the delightful score, and the whimsy designs similar to what is seen in the New Yorker magazine, this film captures the romanticized French lifestyle through Anderson's eye as an American traveling abroad.
"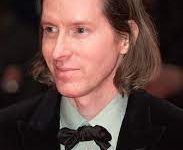 The story is not easy to explain, [it's about an] American journalist based in France [who] creates his magazine. It is more a portrait of this man, of this journalist who fights to write what he wants to write. It's not a movie about freedom of the press, but when you talk about reporters you also talk about what's going on in the real world."
— Wes Anderson
Broken up into segments resembling feature articles in a magazine, the audience is taken through the production and writing of the fictional paper, The French Dispatch. Set in Ennui-sur-blasé (literally boredom upon apathy) a small town in southern France and filmed in Angoulême, the architecture largely plays into the stylistic aspects of the film. Anderson portrays a town that "felt like Paris but not as it is today – more a sort of memory of Paris, the Paris of Jacques Tati." Owen Wilson charmingly takes the audience on a tour of the setting through his character Herbsaint Sezerac, based off the New York times writer, Joseph Mitchell, in the first portion of the film, The Cycling Reporter. 
The Concrete Masterpiece, based off the New Yorker article, The days of Duveen, encompasses the arts portion of the magazine, speaking on a humorous and tragic story of an inmate named Moses Rosenthaler (Benicio Del Toro) who is discovered by an art dealer whilst serving his sentence at Ennui prison. This "article" is narrated through the form of an art lecture done by Tilda Swinton through her character of staff writer J.K.L Berenson. In this story, core virtues of simplicity and humble joy, art for the sake of art per say, is exhibited through Moses's reluctance towards success despite Cadazio's (Adrien Brody) efforts to bring his abstract pieces to the world. 
Halfway through the film the long awaited Timotheé Chalamet makes his entrance… with his hair teased in all directions and a mustache resembling that of a gas station manager's. Chalamet's comical dialogue and character exhibits his range as an actor in Revisions to a Manifesto, scripted and spoken similar to the article on which it was based, "The Events in May: A Paris Notebook". A new generation's anarchy and uprising ideals takes place on the streets of Ennui-sur-blasé, documented by staff writer of the French Dispatch, Miss. Krementz (Frances McDormand) through her mild midlife crisis and attempts to maintain journalistic neutrality (with themes of debate on its existence at all).
The final portion of the film, meant to be a review on Chef Lieutenant Nescafier's (Steve Park) cuisine encompasses instead, an adrenaline filled kidnapping storyline with an excellent chase scene (in which the effects are enhanced through a brief comic book art style).  It is Narrated by Jeffrey Wright's character, Roe Buck Wright, through a recitation of his article The Private Dining Room of the Police Commissioner. Wright says to have drawn inspiration for his character through a "Frankensteinian" combination of James Baldwin's experience as a homosexual person of color in that time period and AJ Liebling's use of irony in his language, with "half a teaspoon" of Tennessee Williams. Steve Clark anchored his character Lieutenant Nescafier in a Buddhist Nun named Jeong Kwan. Clark uses Kwan as a base to portray Nescafier's single mindedness and monk-like commitment to his cooking. It is easy to begin to drift off at this part, stay alert and mindful and you will notice that this story, like the rest, embodies both excitement and the sincerity of experience. 
I ask you to leave your expectations at the door of the theater and get your senses ready for an hour and a half intake of beauty, spontaneity, humor, and that certain je ne sais quoi accompanying every Wes Anderson film.
Leave a Comment