Bites For Bucks: Café With Soul

 If you're a Doylestown Native, you may have run into the same problem I have my entire life: a mere two quick service breakfast places to feed a town of, like, 10,000 people. Although Crosskeys and Perkins offer classic, cheap breakfast food, they often offer multi-hour waits, not helped much by the opening of The Turning Point last year which proved even more busy and more out of budget. A hidden gem I have recently found is Café With Soul, located right on Easton Road, tucked between Altomonte's and a million car dealerships. 
It would not be right to review Café with Soul without mentioning the mission behind the breakfast/lunch joint. As explained on their website, "While operating as a competitive restaurant, Café with Soul is dedicated to transforming the lives of children, teens, and young…by working closely with the Central Bucks community to offer resources in the form of financially supported programming and scholarships to promote Music and STEM education that will proactively drive inspirational, transformative, and sustainable progress toward rewarding careers that improve the world." (cafesouldoylestown.com). So, grab a bite and feel good about the cause you're supporting. 
Now let's get to the food. I've been to Café Soul a few times now, and I would recommend breakfast over lunch. The atmosphere is warm and welcoming, and you'll have your food in very good time. They are very flexible with alterations to the menu, which is very important for breakfast because we all are used to different styles. So, service and atmosphere receive a 9/10 and 10/10 respectively. 
The first dish I will be reviewing is the chicken with waffles. I substituted regular waffles with chocolate banana waffles, which consisted of chocolate chips within but bananas just on the top. This created a VERY chocolatey situation, and as a chocoholic myself it takes a lot for me to say that. Although rich, the waffles were up to expectation. The chicken was fried but moist and flavorful, out-doing whichever chicken fast food restaurant you swear by (yes, even Popeyes and Chick Fil A). It exceeded my expectations of diner chicken. Overall, this dish earned a solid 9.5/10.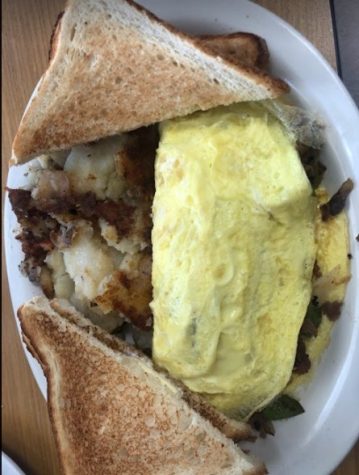 My second dish was less impressive. I got a cheesesteak omelet which was filled with provolone, steak, fried onion, and green pepper. The filling saved the egg, which was severely under seasoned, but I find that that is a common trend in restaurant eggs, and did not matter much when my own salt and pepper was added. The home fries were not worth mentioning, but the toast was above average on a diner scale. Overall, I rate this dish a 6.5/10, giving the food an overall score of 8/10. 
Café Soul is affordable, at about $10-$12 per person, and leaves you full. Because of this I would award a 10/10 score for bang for your buck. With a cumulative score of 92%, I recommend that the next time you find yourself signing up for the Turning Point text waiting list of 30 parties, you remember there's another, more affordable, even charitable option.