Buck's Monthly Bake: Tiana's Beignets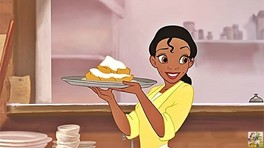 If you have watched Princess and the Frog, the image of cartoon dough with a sprinkling of pixelated powdered sugar in the form of Tiana's famous beignets has never left your mind. I had no idea what a beignet was for the longest time, but when I dressed as Tiana for Halloween, I knew I had to make them to get into character. As it turns out, beignets are very hard to make! There are few recipes for them online as opposed to traditional bites, and the one I used did not work. So, I have tweaked it here so that everyone reading this can fulfill their childhood dreams of biting into the light, donut-like pastry that originates from Tiana's hometown.
In a medium bowl, combine

2 ¾ cups of flour

with

1/3 cup of sugar

,

½ teaspoon salt

,

½ teaspoon of nutmeg

,

2 teaspoons of baking powder

,

and

½ teaspoon of baking soda

with a whisk. 

In a larger bowl, whisk together

1 cup buttermilk

(if you don't have buttermilk, put

2 ½ teaspoons lemon juice

in the bottom of a liquid measuring cup and fill the rest with milk, let it sit for about 10 minutes or until the milk is room temperature),

1/3 cup of water

,

1 egg

, and

1 teaspoon vanilla extract

. 

Stir in the flour mixture until just combined. 

Get a big frying pan and

pour

1 ½- 2 inches of vegetable oil

in

it. Heat the oil up until a meat thermometer reads between 315 and 375 degrees. This should take about 4 minutes depending on your stove. Keep the oil this temperature the ENTIRE time you are cooking, if it falls below turn the heat up and if it reads higher turn the heat down or even off until you reach this temperature again. Check the temperature every 2 minutes. 

Take a large ice cream scoop/ cookie scoop and plop about 8 beignets (depends on pan size) in the pan NOT TOUCHING other beignets. Cook for about 3 minutes, or until the bottom side of the beignet is golden brown. Flip with tongs. 

Cook for 3 more minutes, or until you can stick a toothpick into the beignet and it comes out clean. Remove onto a cooling rack covered in paper towels and pat out grease.
Sprinkle with sea salt, cinnamon, and A  LOT of powdered sugar. At this point the beignets will taste like cinnamon sugar donuts, so if you are not rocking with that melt some chocolate chips and drizzle over the beignets.