Bites For Bucks: Heirloom in Doylestown Restaurant Review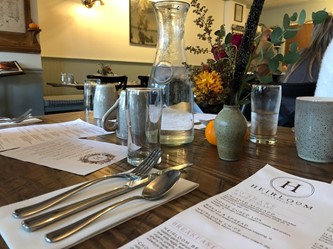 Don't walk, run to Heirloom in Doylestown for breakfast! I have been there four times now; three times for breakfast and once for dinner. Heirloom is a farm to table type restaurant, with an open kitchen that makes the walk to the bathroom heavenly with delicious smells, and a cozy atmosphere that makes you feel like you're in a friend's newly renovated home kitchen. As soon as you are seated, the waiter delivers a pitcher of water and offers tea and coffee in the quaint coffee cups that decorate the table. Although small, the interior of this restaurant is very functional and offers outdoor seating for dinner. All these factors allow me to give the atmosphere a score of 10/10.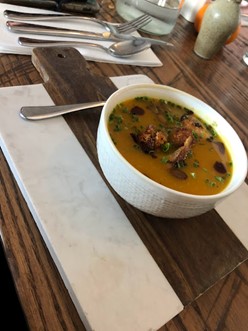 I find that breakfast is their strong suit, as I was not as impressed with dinner, and their normal menu is to die for, though their seasonal specials are not necessarily their specialty. In the past I have indulged in the brisket grilled cheese, BETCH sandwich, and vegan burger which I highly recommend, but this time I chose the seasonal Butternut Squash Soup, Chorizo Hash & Eggs, and Market Omelet of the Day.
I was very underwhelmed with the butternut squash soup which was adorned with chives, pumpkin seeds, and chunks of freshly baked bread. The soup desperately needed seasoning and ended up tasting like bland apple sauce. Not to mention, the bread chunks were already in the soup, so they quickly became soggy and unenjoyable. I was surprised at my unhappiness because the rest of the food definitely delivered.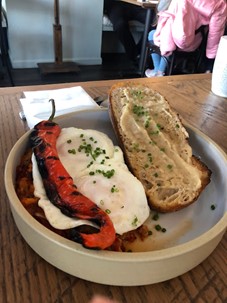 The Chorizo Hash and Eggs consisted of "Nello's chorizo, Kreider farms eggs, sweet potatoes, charred long hot pepper, garlic rubbed grilled nord sourdough". The chorizo and hot pepper delivered a nice kick, and when combined with the runny egg yolks on the sourdough, it was a perfect bite. The sweet potato and chorizo combination into a hash was a flavorful melody which was borderline addicting. My only critique would be it needed something with a crunchier texture than the sourdough crust to really bring it all together. That being said, it was the highlight of my meal, and I would eat it every single day for sure.
The Market omelet of the day was an elevated combination of spinach, herbs, and cheeses. It was better than the average omelet, but the real stars of the show were the signature roasted breakfast potatoes that came on the side. If you come to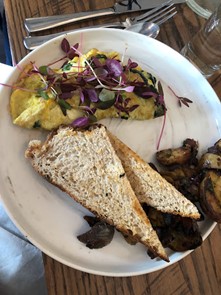 Heirloom for one reason, it would be these potatoes. I am not normally a potato person, but these perfectly crispy potatoes with hints of lime, lemon, and herb explode with flavor in your mouth every single bite. If I could order a plate of potatoes with a side of omelet, I would. I am seriously not over-exaggerating. Overall, I would give the food a score of 9/10.
This is definitely one of my favorite spots, but with the average breakfast entrée price of $16 I can't afford to eat here as often as I would like. Portions are large and will leave you filled, especially with the sides, and taste is worth it so I would end up rating the bang for your buck (price) 8/10. Service is welcoming and accommodating, but often understaffed which ends up being slow. So, I would rate service as 7/10. Combined, Heirloom receives an 85%. Next time you are going to brunch on a half day, skip Turning Point and grab a table at Heirloom.