Bites For Bucks: Harvest Seasonal Grill & Wine Bar Restaurant Review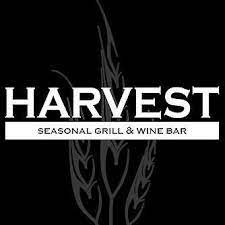 Harvest is a middle scale seasonal restaurant chain with a farm to table style. Their menu changes with the season, but the classy, wine-cellar atmosphere in the restaurant is uniform year-round. I stopped in on a Friday for the first time, and it was the last day of their summer menu. There was outdoor dining as well as indoor, and we were seated right away and given a waiter. Throughout the whole dining experience our waiter was very attentive, giving us personal recommendations and accommodating our family style dining plan.
As a party of four, we ordered one appetizer, one flatbread, two entrees, and a side. These portions were smaller than expected, especially for the price,
and if given the chance we could have eaten at least another entrée or two.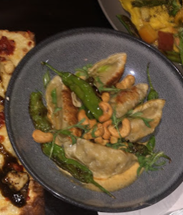 As for the taste, I was very underwhelmed. We started with the Organic Pork Pot Stickers. These crispy dumplings wrapped pork pockets were topped with Shishito pepper Smoked Chili-Lime Aioli, Toasted Cashews, and Cilantro. Although these bites were tasty, that is exactly what they were. Bites. There were four dumplings included and they left us wanting more, which could have been an intended effect of the starter. Nevertheless, this was the best thing we ordered, and I would get them again.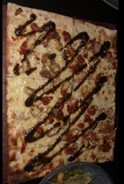 We then got the Jerk Chicken Flatbread. Flatbread was a stretch, the paper-thin crust made the dish more like a bruschetta, on a bed of a thin cracker. The actual flatbread was also underwhelming, with skimpy toppings and average flavors. If you want thin crust pizza, Jules can provide more in terms of taste and price.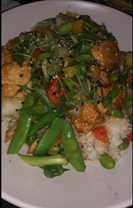 Moving on to the entrees, we started with the Sesame Chicken, which was served with Organic Jasmine Rice, Bell Pepper, Onion, Sugar Snap Pea, Broccoli, Ginger Tamari, Cilantro, and Sesame in a little bed of fried rice. This dish was delicious, the vegetables were cooked just right, and the seasoning kept each bite moist and savory. The only downside of the dish was the sheerness of the chicken portion; it was mostly fried rice, but I would also order this again.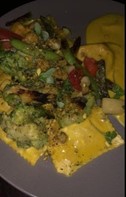 Our second entrée was Sweet Corn Ravioli. This was a vegan dish, but it was not noticeable to a non-vegan. This dish was served with Heirloom Tomato Relish, Summer Squash, Sugar Snap Pea, Broccoli, Corn Puree, Blistered Cherry Tomato, and Pistachio Dust. My party was split between reviews of this ravioli. It came with six pieces which were the perfect mix of nutty, herbal and rich, but the soggy sautéed vegetables, sauce, and other garnishes took away from the dish as a whole.
Lastly, we ju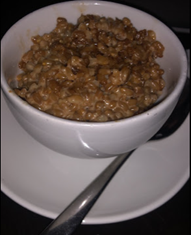 st got a Roasted Mushroom Farro Risotto Side because I couldn't resist any combination of mushroom and risotto. The idea and texture were there, but unfortunately it was under seasoned and not worth the $6 for the ramekin sized bowl.
The food could be completely different in a different season, maybe the summer menu is just not their best option. I would love to try all their menus even though I was not the biggest fan of my first meal here. The food was not bad–and it was not amazing–it was average, but the restaurant atmosphere and service were impressive, and I will probably return in another season to give it another chance. Overall, I would rate this restaurant a 6/10.
Leave a Comment