Montero Album Review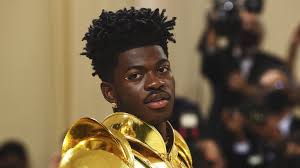 Lil Nas X's album MONTERO, released on September 17th, immediately landed on the charts. The album is named for Lil Nas X, as Montero is his first name, typically hidden by his stage name. It includes 15 memorable tracks, with features form artists like Doja Cat, Megan Thee Stallion, Miley Cyrus, Jack Harlow, and even Elton John. Lil Nas X's distinctive style paired with the other musical artists' signature sounds create a mosaic-like album that jumps between emotions. 
The album starts off with a previously dropped single, MONTERO (Call Me By Your Name), that saw great popularity. From there, the album progresses through upbeat tracks that become addicting the more you listen to them. Conversely, Lil Nas X sings of his desire for a relationship in the vulnerable song THATS WHAT I WANT.  
The artist is breaking barriers as a record-setting musician who is gay and Black. He forces his way outside of the box that the rap genre, and the world, can impose on him. Lil Nas X pushes through hate and severe criticism to keep making art that isn't afraid of what the world thinks of it. 
Showing up in ONE OF ME, Elton John provides a sense of timelessness to the track. He transforms one of Lil Nas X's songs with his mastery of piano while the MONTERO artist provides the strong verses. As that track fades out, the album suddenly dives into a deeply emotional path. LOST IN THE CITADEL describes Lil Nas X's heartbreak over someone with whom he can "no longer sing the same notes." Raw and honest, the song shows insight into the musician's personal life and his mental health. This openness continues into TALES OF DOMINICA, arguably the most heart-wrenching track of the album. 
The rest of MONTERO follows the same thread that LOST IN THE CITADEL opened a portal to. Concluding the album is AM I DREAMING, featuring Miley Cyrus. The simple guitar that resounds throughout the song pairs beautifully with the duetting voices. This last track provides a sense of closure with the swelling lyrics. Lil Nas X truly makes an impact with this album. His sense of identity and connection with himself adds a personal touch to the songs that feels more human than anything. Tales of heartbreak, hope, and happiness are relatable for the listener and make them feel a kinship with Lil Nas X's lyrics. Overall, MONTERO is a well-crafted album with stand-out lyrics and a mix of emotions that reverberate in the instruments and the heart.