Album Review: Sweep It Into Space
Alex Hartin offers his take on Sweep It Into Space, the latest album by Dinosaur Jr.
Legendary alt rock band Dinosaur Jr 12th album delivers more of what they do best: beautiful melodies hidden beneath layers of fuzzed out guitar noise. Coming four years after their previous release, 2016's Give a Glimpse of What You're Not, this album finds them the most melodic they've ever been and still just as good.
Dinosaur Jr began as just Dinosaur back in the late '80s, when they released 3 albums with their original lineup. After bassist Lou Barlow left the band in 1989, they would release 4 more albums with new members before breaking up for good in 1997. Since their reunion in 2005, the original lineup has released 5 albums, with the fifth since then, Sweep It Into Space, hitting shelves in April of 2021. Originally planned for release in 2020, the album was delayed until recently. The band had completed the majority of the album prior to the quarantine last spring but were forced to take a break from the recording process, and were only recently able to finish it.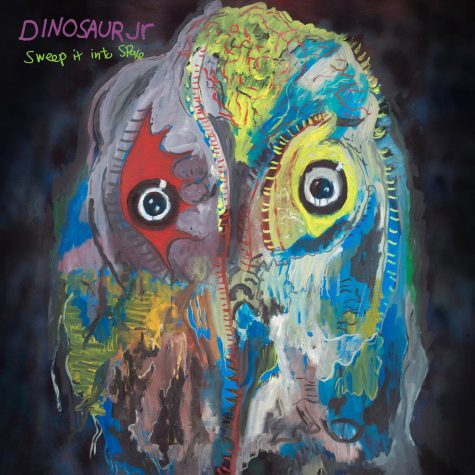 Sweep It Into Space opens with "I Ain't", introducing early on jangly, fuzzy chords and melodic vocals with leading guitar before shifting into the hard-edged, metallic riffage of "I Met the Stones". Possibly inspired by actually meeting The Rolling Stones, it speaks about the brief fame they had back in the '90s. Songs such as "And Me" and "Take it Back" show off the band's melodic capabilities that were often hidden in the noise. Woven throughout the songs are what has always made Dinosaur Jr stand out: frontman J Mascis's wonderfully expressive, almost-psychedelic lead guitar-playing is as good as it's ever been, and his vocals retain the same weird "Higley passionate slacker" vibe they've always had.
Bassist Lou Barlow's two contributions, "Garden" and "You Wonder", stand out against the rest of the songs. "Garden" might be the most melodic song that they've ever released. The song speaks of returning to simpler times of "going back to the garden" and features a twelve-string guitar and an orchestrated background. It makes me wonder if Barlow should be writing more often, as he usually only gets two songs per album.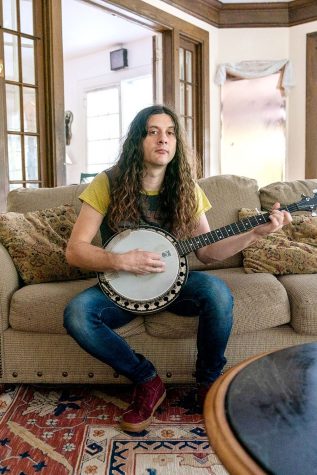 Dinosaur Jr.'s sound may not have changed much overall – ever since reuniting 16 years ago, the music they released has been remarkably consistent – but it hasn't needed to. Their songs retain the same qualities that made them so influential decades ago. Their music is still just as unique as it ever was. As musicians, they've only gotten better over the years: Lou Barlow's bass playing, and his frequent use chords, give their music a rather different foundation; drummer Murph's playing is as loud and forceful as ever; and front man J Mascis's guitar playing is what it's always been, and he is still one of the best lead guitarists in all of alternative rock. Sweep It Into Space was produced by Philadelphia native and former War on Drugs guitarist Kurt Vile, who has them sounding the best they have in a while. The bass rumbles and punches its way through the bottom end, and drums sound full and natural, exactly like they should. The guitars feel like they have space to breathe and grow, and nothing feels crowded: they have the perfect mix of fuzz and clarity, something notoriously difficult to achieve.
Sweep It Into Space is an album well worth the 5 year wait and stands up to anything else they've released in the past. They have managed to achieve the near-impossible for most bands: remaining consistently good into the fourth decade of their career. Dinosaur Jr. don't change because they don't need to; they found their sound and know it well. With each new album you know that one thing going in. The only surprise is how they've manage to stay so good.