Court Street Cooking Corner: Chocolate Chip Pumpkin Muffins
A delicious, healthy, easy-to-make recipe for chocolate chip pumpkin muffins. Now you can have a tasty pumpkin treat any time of the year!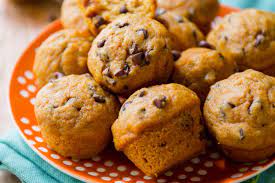 Are you ever annoyed that all the pumpkin items go out of stock so quickly after autumn? It seems plain stupid that stores stop selling these pumpkin-flavored foods if they're so popular. And it's usually fairly difficult to bake pumpkin flavored pastries at home. A lack of pumpkin foods is a problem that I don't think should exist in this world. If you're a fan of pumpkin, muffins, or baked goods in general, this recipe will be perfect for you. It's both quick and easy to make, and it tastes delicious. Plus, it uses Greek yogurt instead of butter or margarine, so it's a healthy option as well.
Recipe
Ingredients
¼ cup oil (e.g. vegetable oil)
1/3 cup honey
2 eggs
1 container non-fat plain Greek yogurt (5 oz.)
1 cup pure pumpkin puree
¼ cup milk
2 tsp. pumpkin pie spice (or use 1 tsp. cinnamon, ½ tsp. ginger, ¼ tsp. nutmeg, ¼ tsp. allspice, and 1/8 tsp. cloves)
1 tsp. baking soda
1 tsp. vanilla extract
¼ tsp. salt
1 ¾ cups white whole wheat flour
⅓ cup mini chocolate chips (mix into flour)
Instructions
Preheat oven to 425 degrees Fahrenheit.
Grease 12-cup muffin pan with non-stick cooking spray (or use liners).
In a large mixing bowl, whisk oil and honey. Then, whisk in eggs.
With a wooden spoon, mix in the Greek yogurt, pumpkin puree, milk, pumpkin pie spice (or the listed mix of spices), baking soda, vanilla extract, and salt.
Add the flour/chocolate chips and mix just until combined.
Spoon the batter evenly into the prepared pan. You should be able to fill all 12 muffin cups.
Bake for 5 mins at 425 F, then keeping the muffins in the oven, reduce the oven temperature to 350 F, and bake for an additional 17-20 minutes or until toothpick inserted in the middle of a muffin comes out clean.
Place the muffin pans on a cooling rack to cool. Store cooled muffins, covered, at room temperature for 3-4 days.
Enjoy! If you have any questions or comments, comment down below!