CB West's Mr. Olear discusses Kyle Pitts potential in the NFL
CB West's Mr. Olear saw Pitts in action as his high school football coach at Archbishop Wood. I recently had the opportunity to ask Mr. Olear about Pitts and what it was like coaching someone that has gone on to great things.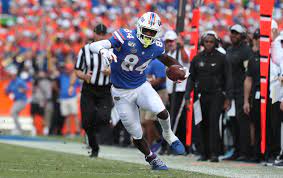 Update: Mr. Olear was correct. Kyle Pitts was drafted fourth overall by the Atlanta Falcons.
The NFL Draft is rapidly approaching, and certain names are rising to the top of draft boards across the league. One of these names is Kyle Pitts, the tight end out of Florida. Some consider Pitts the best player in the draft other than generational quarterback prospect Trevor Lawrence. ESPN draft expert Mel Kiper Jr. has Pitts has his highest rated tight end prospect ever.
When watching his film from Florida, it is clear that Kyle Pitts stands out more than any other player on the field. He had plenty of success at tight end but also looks like he could play receiver if needed. The phrase "versatile weapon" has been used to describe the play style of Pitts. His imposing size, good speed, and great hands are everything that scouts look for in a player.
CB West's Mr. Olear saw Pitts in action as his high school football coach at Archbishop Wood. I recently had the opportunity to ask Mr. Olear about Pitts and what it was like coaching someone that has gone on to great things. I first asked Mr. Olear if it was clear that Kyle Pitts was going to be a star. He seemed to think so, telling me that "I met Kyle for the first time at the end of his sophomore year when he was getting ready to transfer to Archbishop Wood. What impressed me most about him initially was his physical size. As a young Sophomore he was already 6'4."
"When I shook his hand, I realized his hand was almost twice the size of mine," Mr. Olear told me. "After observing him for the first time at a 7 on 7 passing scrimmage I knew he was going to be a great player. He has the rare gifts of size, speed, and athleticism. What a lot of people do not know about Kyle is that he was an outstanding Defensive End in high school as well as a tight end. I thought Kyle would have great success on either side of the ball at the college level. His passion was to be a Tight End and that is the dream he pursued with obvious success." Pitts's talents were always visible at multiple positions.
I then wanted to get an idea of Pitts's personality. He has done multiple interviews with both national and Philly media since he is from the area. He always conducts himself well, so I wanted to know if his coach felt the same way. When I asked Mr. Olear about Kyle's personality, he had this to say: "Kyle's character and personality are what really impresses me most about him. He is a considerate and kind human being. He was also very respectful of his peers and coaches alike. One of his best assets as a football player is that he is very coachable. He listens to what his coaches have to say and typically does not have to be told more than once to correct a technique. He is a fierce competitor and a great teammate." It's safe to say that whoever drafts Pitts will be getting a great teammate and someone with a great personality.
Scouts and draft experts seem to think that Pitts will have a great career. He is viewed as the best pass-catcher in the draft by many and is without a doubt the top tight end prospect available this year. Since Mr. Olear worked with Pitts first-hand, I wanted to know if he thought Pitts could have a great NFL career. His answer was an assuring one: "Kyle is going to have a great career in the NFL. The premier Tight End in the NFL would arguably be Rob Gronkowski. Gronkowski has size and athleticism with decent speed. I think Kyle will eclipse Gronkowski's achievement at the position. He has the size and athleticism of a Tight End, but the speed of a Wide Receiver. It is going to be very difficult for opponents to match up with him. If you cover him with a Linebacker, he will be faster. If you try to cover him with a Defensive Back he will be bigger and stronger." Mr. Olear's insight on Pitts is near identical to what top draft executives have said. He is a matchup nightmare and will become one of the top tight ends in the league. Mr. Olear sees him becoming an all-time great just like many others do.
Pitts is viewed as a prospect that any team could use. He should be a no-brainer for a team that needs a tight end but could also use his versatility on a team in need of a wide receiver. I asked Mr. Olear which team would be a good fit for him. "Based on the draft order, I think the Atlanta Falcons will be a great fit for him. Their QB, Matt Ryan, will be around for a few more years and I think Kyle can learn a lot from the veteran QB. Ryan, as a veteran, will know exactly how to take advantage of Kyle's many talents." Going 4th overall to the Atlanta Falcons would likely have Pitts as the first quarterback off the board. He would have the opportunity to play alongside Julio Jones and Calvin Ridley, who may be the best wide receiver duo in the league. An experienced quarterback and former MVP in Matt Ryan would be throwing to him. Atlanta certainly would be a win-win for Pitts and the team.
Finally, I asked Mr. Olear if there were any other great players that he had coached. "I have had the pleasure to coach so many incredible young men in the past 10 years. Some of my football standouts are Kyle Pitts, Luke Benson (CB West, Syracuse), and Raheem Blackshear (AB Wood, Rutgers now Virginia Tech)." Luke Benson is currently the starting tight end for Syracuse's football team. He was a football and track star for West. Raheem Blackshear has played football at both Rutgers and Virginia Tech. Mr. Olear has coached many great players of the years and some of them have had collegiate success.
Speaking with a future superstar's former head coach gave me a great perspective. CB West is fortunate to have a coach that has been successful in coaching great talent. I already believed Kyle Pitts was the real deal, and Mr. Olear's thoughts on Pitts just confirmed those beliefs. So if you're watching the NFL draft this week, remember the name Kyle Pitts.