Album Review: Look Alive by Black Pistol Fire
While it has its limitations, Black Pistol Fire is a solid two-man band that puts out good quality music.
Look Alive, the sixth album by the Texas based garage blues band Black Pistol Fire, sees the band expand their sound while remaining true to their roots. Following a string of 5 albums in 6 years, the three-year gap since 2017s Deadbeat Graffiti came as a surprise to many, whether it was intentional or not. Released in January 2021, the extended wait was worth it as Look Alive is quite possibly their best album yet.
Black Pistol Fire first emerged in the early 2010s as part of a wave of garage/blues bands that sprung up in the wake of The White Stripes and The Black keys (a comparison not helped by the names, and the fact that all three bands are drums/guitar vocals) and often struggled to differentiate themselves from the rest of their contemporaries and influences. Nevertheless, Black Pistol Fire soon established themselves as a decent band who put on a great live show. They are and always were a band who are very good at what they do, even if what they do isn't particularly unique. While there is certainly not anything wrong with that it held them back in the past from making anything truly great.
Over the course of the album, Black Pistol Fire wander through the limits of their garage blues sound. The album opens with the moody tile track before segueing into the up-tempo blues of "Pick Your Poison" where the vocals harmonize with the guitar leads for a very interesting effect. The song makes excellent use of space with brief staccato stabs in the verse before returning to the harmonization. It then shifts from the laid-back groove of "Never Enough" before the almost 50's-esk moody twang of "Black Halo", and the exaggerated swagger of "Hope in Hell".  "Never Enough" in particular stands out as something that probably could have been a single and almost sounds like you could hear it on mainstream radio.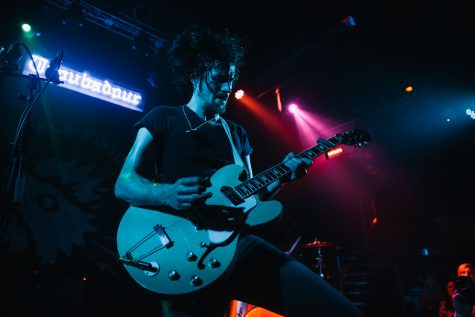 Front man Kevin McKeown's rough yet high style has always been one of the best parts of their music and his aggressively energetic take on blues guitar stand out particularly well from their contemporaries. In comparison, drummer Eric Owens "hit the drums as hard as I possibly can" approach—while fairly standard for rock drummers—is never something to complain about. The one big addition to their sound is the occasional bits of synth bass played by Owens that serve to fill out their sound, though I think the drumming does suffer a little, as one of his hands now has to play the keyboard.
Despite this, if one was unfamiliar with the band, they probably wouldn't even realize that they are a two piece.  The inherent limitations of a two-piece band allow for greater creativity in overcoming those limitations. For Black Pistol Fire, however, I would say that they might do better by adding a member or two and growing their sound.
Lyrically, Look Alive still suffers from the same problems as their previous albums. The lyrics themselves aren't terrible, as there are little forced rhymes or just plain silly lines here. But they do seem almost like an afterthought and do occasionally fall into well-worn blues clichés. There's nothing wrong with genre appropriate lyrics, but they could use some work. The music more than makes up for it, but it would be nice to see some more originality and effort in the future.
Musically they still stick fairly close to what they've always done before, with fuzzed out guitar riffs and pounding drums, although the echo effects on some songs like "Level" create a quasi-psychedelic sound. The increasced use of effects pedals contributes greatly to the atmospheric sound of the album, which takes a darker turn than their previous work. Though the shift in sound is noticeable, Black Pistol Fire is still recognizable as the same band.
"
They are a band that, if I were to see them headlining a show, I might be slightly disappointed, but would be thrilled to see them as an opening act."
Look Alive is the first of Black Pistol Fire's albums worth listening to all the way through. while all of their previous work had some very good, even a few great songs, there was always a little filler unfortunately thrown in. Five of the album's eleven songs had been released as singles over the past two years. Unfortunately missing on the album is "Well Wasted", which I had assumed would eventually be on the album as the single art shared the same yellow and black color scheme as the rest of the album's singles. While I understand that there might not have been space, it's still a slight disappointment.
Look Alive shows both the strengths and limitations of Black Pistol Fires sound. They are a band who have never released bad music, but only seem to get better and better as time goes on. They are a band that, if I were to see them headlining a show, I might be slightly disappointed, but would be thrilled to see them as an opening act. Unfortunately, they can't seem to move past that. But if they can continue improve and expand their sound in the future, perhaps one day they might make something truly great.
Leave a Comment