What's Going On With Wentz? – An Analysis
How did someone once considered one of the best quarterbacks in the league have an abysmal season that will result in his departure? 
The biggest story in Philly sports right now is, without a doubt, the potential Carson Wentz trade. Once considered the Eagles' quarterback for the next 15 years, Wentz could be traded less than 5 years after the Eagles traded up to acquire him.
Wentz had a promising rookie season where he went 7-9 as a starter and threw for 16 touchdowns compared to 14 interceptions. He showed great potential for someone throwing to Dorial Green-Beckham, Nelson Agholor, and Jordan Matthews as his wide receivers.  
That offseason, the Eagles lured star Alshon Jeffery away from the Bears and signed veteran Torrey Smith. They gave Wentz additional weapons in addition to Zach Ertz, and Nelson Agholor emerged as an above-average receiver after 2 rough years to start his career. The result was an MVP-caliber year where Wentz seemingly established himself as Philadelphia's long-term starter, and was considered one of the best quarterbacks in the league. But his meteoric rise was cut short, as he tore his ACL after going 11-2 as a starter and throwing 33 touchdowns compared to 7 interceptions. Nick Foles famously rallied the Eagles to a Super Bowl win, yet Wentz's spot as Philly's franchise guy seemed safe.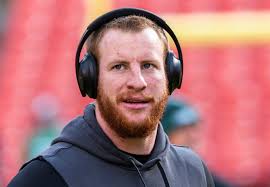 When Wentz came back from his torn ACL the following year, he was not the player he once was. He went just 5-6 as a starter before a back injury ended his season. He still posted a solid stat line, with 21 touchdowns compared to 7 picks, but Nick Foles improved the team's play and led them to a playoff appearance and Wild Card win. The Eagles had a big decision to make in the offseason. 
They opted to choose Wentz over Foles, as Foles signed with the Jacksonville Jaguars. The Eagles handed Wentz a 4-year extension worth up to $128 million. Wentz would have to prove that they made the right choice after some people questioned his injury history and lack of wins compared to Foles. The Eagles attempted to help Wentz out by drafting receiver J.J. Arcega-Whiteside. This surprised some fans, as people thought the consensus receiver to pick was DK Metcalf. But the Eagles liked Arcega-Whiteside's contested catch ability, and went with him. 
Foles got injured in Jacksonville, and was benched for poor play following his return a few weeks later. However, Wentz's team found themselves at 5-7, and it looked like the season was one loss away from ending. Wentz responded by not losing another regular season game, going 4-0 to close out the year, in spite of multiple wide receivers from the practice squad being called up due to injuries. Despite this miraculous finish to the year, Wentz's season ended after a dirty hit in the Wild Card. The Eagles hung around, but fell 17-9 without Wentz. A key factor in that loss was the performance by DK Metcalf.  
Wentz's quick exit from the playoff game again brought up injury concerns, but his ability to win with those receivers that he had would make the Eagles confident he could be their starter. The Eagles had a plan to prevent a repeat of the previous year, but not in the way that many had imagined. In the first round of the 2020 draft, the Eagles took receiver Jalen Reagor over the seemingly obvious pick of Justin Jefferson. They then took Jalen Hurts as an insurance policy in case Wentz got hurt. But drafting a quarterback in the second round, especially when your starter has been questionable, in some people's eyes sends a different message.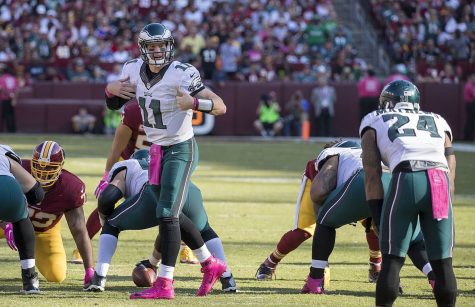 This brings us to the disaster of this season. The Eagles were once again torched by DK Metcalf. Another receiver the Eagles had passed on in that same draft, Terry McLaurin, got two victories over the rival Eagles.  Justin Jefferson, who went just one pick after the Eagles, was named an All-Pro as a rookie. And Wentz obviously played poorly, throwing 16 touchdowns to 15 interceptions in 12 starts. He was benched, and it looks like his days are numbered in Philly. 
And that's how the Eagles have gotten into their current situation. Fans are divided over what the team should do, but they have to trade Wentz. He hasn't requested a trade, but prefers out. And his name can't be in trade talks and be brought back. He's ready to move on; it must happen. People thought he might stay after Doug Pederson was fired, but he won't even pick up Howie Roseman's calls. Whether or not the Eagles will regret their role in forcing Wentz out of Philly will be seen if he gets traded. So what would a team be getting in Wentz, and what would happen to the Eagles? 
People online and on TV have made it clear that they think Wentz is bad, but NFL general managers still have faith in him. Whether you want to side with the Instagram comment section GMs or the actual NFL GMs is up to you, but why would the NFL GMs still want Wentz? For starters, he's 6'5" and 237 lbs. That is an ideal size when a team is looking for a quarterback. He has a good arm and capable accuracy. He's lost some mobility since his ACL tear but can still effectively roll out of the pocket to make throws. In terms of accolades, he's a former second team All-Pro, a former Pro Bowl selection, still has the 11th best touchdown to interception ratio in NFL history, and owns the Eagles franchise record for passing yards in a season.  
But for as much potential as Wentz still has, there are some concerns. His play last year was poor, and most of his numbers were worse than his rookie year. His contract also takes up a lot of the team's salary. Giving up a first or second round pick could hurt the team if Wentz doesn't improve.  
However, his upsides are too great to pass up for some teams. Despite people only thinking of 2017 when talking about Wentz being good, he put up 48 touchdowns compared to only 14 picks in the two seasons prior to this one. Those teams are betting on last year being a fluke. They believe the record number of offensive line combinations and constant whiffs on receivers in the draft are the main reason for poor quarterback play.  
The Eagles' replacement for Wentz will likely be Jalen Hurts, although there are reports that the Eagles would take a quarterback with their sixth overall pick in the draft if they viewed them as a franchise player. Hurts should be viewed as the expected starter for now.  
Obviously, Hurts was considered an improvement over Wentz when he filled in, but is he a guaranteed franchise quarterback? He was third in the league in fumbles, with 9 despite starting only 4 games all year. Wentz is known for fumbling, and had 10 in 12 starts. Obviously, Hurts has to take a big leap in ball security. His accuracy was also shaky at times, as he posted a 53% completion percentage, worse than Wentz's 58%. Hurts also seemed to force passes that were picked off in the Cowboys game, just like Wentz used to do. While Hurts' running ability brings another weapon to the offense, he needs to be able to beat guys with his arm, and not just his legs. Mobility is increasing among quarterbacks, but a 43-year-old pocket passer just won the Super Bowl. Throwing ability remains supreme among Super Bowl-winning quarterbacks. 
Hurts clearly struggled with some of the same issues that Wentz did: dropped passes, poor offensive line play, and bizarre play-calling made it tough on him. Fortunately for Hurts, he will have a new coach in Nick Sirianni: one who has worked with quarterbacks to improve ball security, take fewer sacks, and play to their strengths. Hurts deserves a chance to prove himself, and an Eagles offensive line which is above-average when healthy will help. I'd like to say he'll get a weapon to throw to in the draft, but Howie Roseman's draft picks don't make me confident enough to say that. Hopefully Hurts can get someone that will be paired alongside Jalen Reagor, who I think could still be something special with his blazing speed. 
The Eagles have made it clear that they don't have an issue keeping Wentz, but I believe that they'll get an offer that they like enough to go through with. When a player will speak with everyone but your GM, it's time to move on. Whether or not the Eagles will regret getting into this situation will remain a heated debate among fans. Metcalf, McLaurin, and Jefferson have all made the Eagles' front office look foolish; will Wentz be the next to? Between him and Hurts, I believe Wentz presents the greater upside as a passer. I think he's a top 10 quarterback with the right coach and team, such as the 49ers or Colts. However, Hurts' ability as a passer has improved the most of any quarterback in the draft according to a source, and I believe he can become more accurate as a passer.  
With teams that view themselves as a quarterback away from contention being interested in Wentz, and a situation that could be difficult for a quarterback in Philly, comparing Wentz to Hurts might be unfair next season. But a rabid Philly fanbase and the sports media won't care. The pressure is on for the Eagles' struggling front office, where the Wentz trade can get the Eagles back on the right track, or be the final nail in the coffin for their collapse from winning a Super Bowl just three years ago.