A Court Street Press Exclusive: What's Going On at the County Theater?
To gain some insight into running a movie theater through a pandemic and major renovations, I spoke to Chris Collins, executive director of Renew Theaters.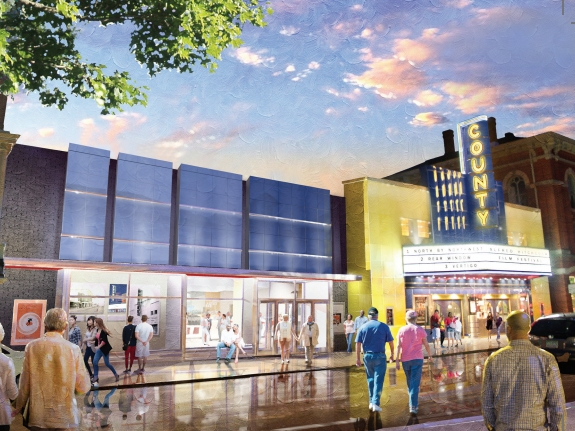 Anyone who spends a lot of time in Doylestown Borough has surely been watching the County Theater's expansion project unfold. It's one of the most visible construction projects we've had in town since the new courthouse complex was built. The project has especially been in the spotlight because it's an icon of Doylestown and Bucks County. The County's striking blue-and-yellow, Art Deco façade has earned it national recognition, and it is evidence of Doylestown's remarkable cultural history.
However, the local icon was once in danger of closure, or worse. After years of decline as a conventional movie theater, it ultimately shut its doors in 1990, and was open intermittently through 1992. However, it was rescued, restored, and reincorporated as a nonprofit by local film buffs in 1993. Today, it's run by some of the same people through the nonprofit Renew Theaters. Renew Theaters manages three other independent cinemas – you may be familiar with the Ambler Theater in Ambler, the Hiway Theater in Jenkintown, or the Princeton Garden Theatre in Princeton, NJ.
So, I spoke to Chris Collins, executive director of Renew Theaters, to gain some insight into how the expansion project is faring, how the theater has adapted to the pandemic, what running a movie theater is like, and what the deal is with State Street.
[Editor's note: Courtesy of Central Bucks, the County's website is blocked on school devices on the grounds of being "entertainment." However, on their page about the expansion, they have pictures, videos, and even a livestream of the progress that are worth checking out. There are frequent updates, as well as additional information]
Interview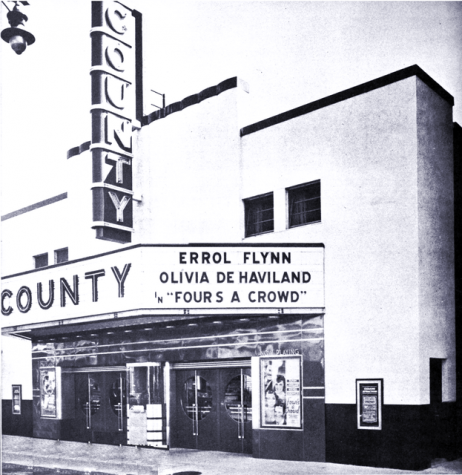 Why run a small, independent movie theater?
The County Theater has been a part of Doylestown's fabric since 1938. Since 1925, Doylestown has had a downtown movie theater. And we feel that it provides a community service: entertainment, education, and preservation.
When the County reopened in 1993, it was one of the drivers of the revitalization of downtown Doylestown. And people wanted it to be a theater. They wanted to have thoughtful community programming, and they wanted to be in walking distance of that. And we're very proud of [offering] that.
The other thing is, we just loved showing good movies. It's not just new movies. Your commercial movie theaters just don't show classics and [offer] special events and programs like we do, in terms of with speakers and special guests. That can range from our annual showing of Casablanca to our "crowd participation" screening of Monty Python and the Holy Grail. Those are the things that make it really special to run our theater and are what set us apart.
Now, the pandemic has sped up changes that were already happening within the industry. It moved a lot of things to streaming and has put a real strain on the future of theatrical moviegoing. I think there is a serious challenge ahead for commercial theaters, especially multiplexes, who rely on very different content from us to stay in business.
But I think that our theater, being a member-based community cinema, for which our mission is on historic preservation and education and entertainment, makes us more than a movie theater. We're a community center, we're a museum to some aspect, and that's going to make the difference in terms of what our future will be. I think there will always be a place for an organization like ours.
One of the most important parts of any movie theater, of course, is the films. How do you choose what movies to screen?
There's a lot that goes into it. We go to a lot of film festivals and watch a lot of trade screenings, and we try to stay abreast of everything that's available to us. And then we work with certain distributors, and there are windows of availability for certain films, and it's really just picking the films that we think fit our brand and our curatorial vision for the theater. And that is movies that are critically acclaimed and artfully made, that speak to our audience and our members.
We try and keep a good mix of different titles, but I think the underlying [picture] is to try and look for the best films out there, and not the ones that are going to make the most money. We're not looking for the next blockbuster: we're looking for the best movies that are being made right now.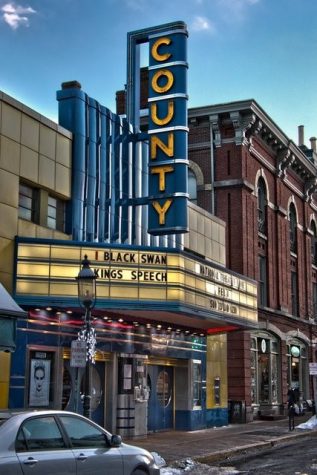 For all its presence, the County isn't the biggest theater. When did the idea for an expansion come about?
The idea for the expansion has been in the minds of our founding directors for over 20 years. John Toner is our founding director, who founded the theater as a nonprofit and is overseeing the expansion project right now, and he always saw that the only way to expand the theater would be with the neighboring Poor Richard's property.
[Editor's note: 'Poor Richard's Talk of the Town' was a longtime antique shop next door to the theater that closed in 2015. Some opposed demolishing the building, but the Borough Council approved the plans to do so in 2019]
And he had been in communication [with the owner], and said, "Give us first right of refusal if you ever sell the property". So we've been working on the project now for about five years, and we bought the building almost 4 years ago. We very much knew what we wanted to do with it and how to use the space, and it was just waiting for the right time to come.
The County actually used to be much bigger. It used to be a single auditorium: if you took out the dividing wall between the two screens, that's how wide it was. But it was actually double the depth [as well]: the front half of the theater was converted to apartments in the '80s. So, on one level, this is bringing the County back to the number of seats and the size that it used to be.
What were your goals for an expansion like back then, and how have they evolved since then?
We had a couple key goals for the expansion. One was to have an additional screen. You asked about how we choose our films. One limitation to our films is, when they're on screen, we're in partnership with the film's distributors, and we are obligated to show that film as long as it's profitable. So, there's a certain threshold: if it performs above a certain number, we're obligated to hold onto it, and that can mean we get stuck with the same two films for a long time. Having three screens provides a lot more flexibility in terms of bringing in new content and doing special events.
We also operate the Ambler Theater in Ambler. [It] started with two screens and after renovations [gained a third], and we saw an incredible change in what we were able to do in terms of programming and just allowing more people to come through the theater, all by adding that third screen. So, we really wanted that for the County.
The other thing is that the expansion allows us to make the County a lot more accessible. The County was built in 1938, and a lot of our current accessibility guidelines weren't in practice then. The County didn't have first floor bathrooms. It had one that we had shoehorned into the lobby. But this new expansion will give more room [for] the lobby, first-floor bathrooms, and more bathroom space for everyone. And that will allow us to do a lot of things, and a lot of that has to do with events and special programs. [Overall] it makes the theater more community accessible.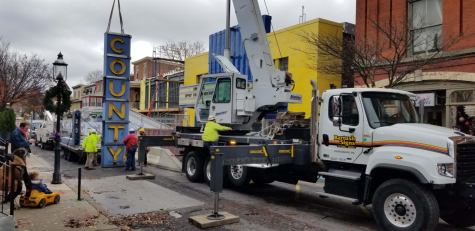 Aside from creating much-needed space, what else do the renovations accomplish?
We're also doing renovations to the historic property, and that's allowing us to fix some of the sound bleed issues which were in the previous building. [There was] sound you might be able to hear between the auditoriums, and sound was also impacting the apartments around what used to be the front of the theater.
We're also going to do renovations to clean up and fix up the paint and color of the historic building, which got weathered and dirty over time. That's allowed us to really clean up the building, and it looks incredible, too.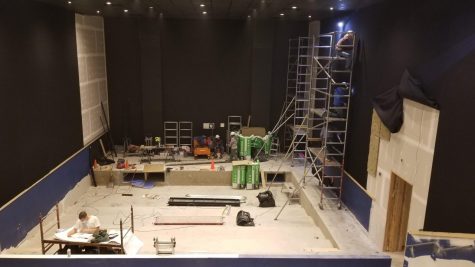 Has the construction timeline been affected by COVID, and if so, how?
Yes, it absolutely has. Our original plan was to build the addition in 2020, then close the historic theater and do all the renovations to the historic theater in 2021, and then close both buildings for a short period of time as we connected the two and put everything together.
What the closure due to the pandemic has allowed us to do is to actually do both phases at once. And we're taking advantage of the fact that movie theaters are closed to do all this work while we can't be open.
When we do reopen, we're going to reopen with a fully renovated County Theater with three screens, and amazing new seats in all three auditoriums, better insulation between all auditoriums – and it's all going to be done at once. And we're very excited to bring people back in to see it.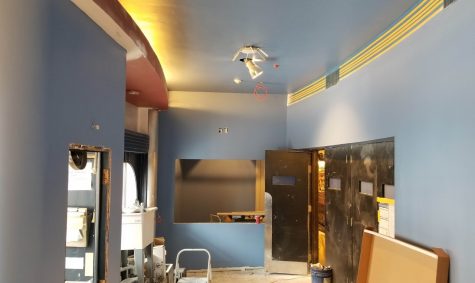 Since the work is ongoing, what stage of construction is the theater at now?
We're in the final interior design work now. Right now, the inside is being painted, tile is going up in the bathrooms, and the final stages of the interior work are being done. We're really hopeful that it's all going to be finished early 2021. We're not exactly sure what the completion date will be, but it'll definitely be before spring.
Are there any other pandemic-related restrictions that could push back that date?
There are two factors [to consider]. The first is the construction timing – that is the one thing we need to get done before we can even consider reopening.
The second is what the restrictions are, and when it is actually safe to reopen. We also operate three other movie theaters, and those other theaters have actually been closed since March 13th as well due to the pandemic. Right now, there are capacity limits, but movie theaters are allowed to reopen. New Jersey is at 25% capacity, but Pennsylvania is at 10% capacity.
So right now, even once we finish the construction, [it would be] incredibly hard to break even. So, we're keeping a close eye to figure out when it's both safe and sustainable to reopen.
How has the theater adapted to the closure, both by construction and COVID, in the meantime?
We're incredibly lucky to have the broad support of the community throughout this period. And as a nonprofit theater, we are lucky to have the support of our members and donors, who have continued to support the theater and theater expansion, and that is the one thing that has kept us running through this extended closure. If we were a for-profit, then I would hazard to say we would not still be around. So, it's really thanks to our members and friends that we can even think about reopening.
In early March last year, we pivoted quickly to bring on our virtual cinema component. We're offering some programs through our website that are films that you can rent that are at the same high-quality, artistic level which one would expect from the County. We also have free screenings of Hollywood classics every week, and we continued our online discussion programs. So, there's a lot that we are still doing to live up to our mission.
Over the summer, we did a number of outdoor screenings as well. And that also allowed us to continue with our mission of providing movies and entertainment and memories to the Doylestown community.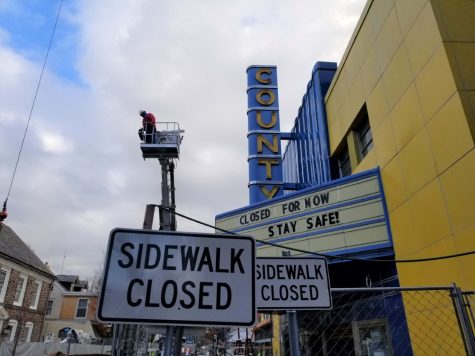 Now, just to set things straight: Is the theater project the reason State Street is torn up?
There are multiple things going on on State Street. PECO has been doing a lot of work, and they have been tearing up large portions of the street. We are responsible for the barriers and reducing things to one lane, but them digging up the street and doing utility work is outside of our knowledge and control. People are definitely saying it's our fault, but it's out of our control.
Parting thoughts
This project is likely the biggest in the County Theater's history since its original construction. The County raised a total of over $3 million by the end of 2020 to cover the cost of this expansion. And, as Mr. Collins shared, the project will hopefully be done by this spring, and ready to reopen soon after.
Ultimately, however, as with all matters of the past year, it comes down to the pandemic. Even if state restrictions are loosened, it may be difficult to fill theaters, even to a limited capacity. Personally, I would have a hard time being comfortable in a movie theater, even with an overall declining number of cases. Without a doubt, the County will still be there whenever things subside, as it has been for the past 83 years. I'm excited to go back once that point comes.
Leave a Comment