Bucks Student Entrepreneur Feature: Josh Galanti
As the founder of Spiffy Laces, Josh Galanti '21 wants you to love your shoelaces.
CB West Senior Josh Galanti met with me in Native Café last Tuesday and there was already evidence of merit when I walked into the café. Next to the front-counter stood a neat-looking wooden rack labeled "Spiffy Laces". Hanging from the rack were shoelaces that had designs I'd never seen before on shoelaces: Simpsons-styled donuts, cherries on light blue, "artsy-fartsy flowers", and some kind of leaves on dark purple.
Those shoelaces are Josh's product, and he had come to talk to me about his experience starting and running his business, Spiffy Laces.
Before our interview, Josh, a Native "regular", chatted with the café owner, Jay. He talked about some ideas he had for future products and designs, to which Jay responded with, "siick, dude", and offered tips on how Josh could make them work.
It was very informal, and neither Jay nor Josh seemed to think much of the interaction. But considering this was a store that sold Josh's product, it was interesting to see Josh's ease of relationship and openness to advice in that situation.
Before launching Spiffy Laces, Josh told me, he developed a liking for "crazy socks". At Native Café on Tuesday, in fact, he donned a pair with an array of colors and smiley faces that popped out compared to my own boring gray crew socks. After a while exploring this interest, though, Josh was eager to expand it, which led him to shoelaces.
A Google search for "crazy shoelaces" will show a variety of styles, which Josh knows. "But when I tried to find shoelaces with the flair of the crazy socks I was into, I couldn't find anything," he told me. Indeed, the shoelaces from Google Images are mostly simple patterns with some colors to them; while they're more interesting than typical shoelaces, there is minimal expression to them.
After seeing this, Josh decided he wanted to change that.
Josh is the son of an entrepreneur; his dad sells fudge. For the past two years, Josh told me, he has worked with his dad and travelled to farmers markets and fairs everywhere within a two-hour radius, working to sell fudge.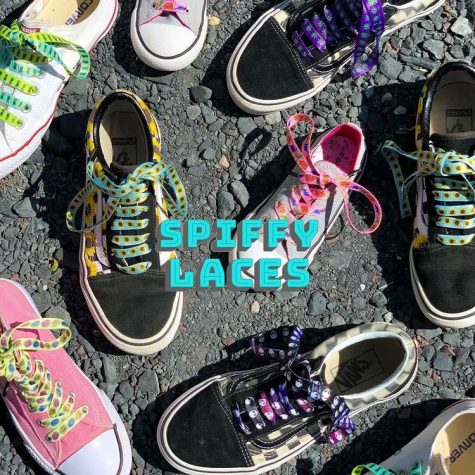 In the summer of 2019, the idea to make his own shoelaces began to brew. Before he could launch a business, however, there was a lot of work to do. He needed to make a logo, create a design, order sample laces, develop a website, set up for future ideas and changes, do the math on prices, and more.
On March 20th, 2020, Josh was finally ready, and Spiffy Laces LLC. was launched.
Mid-March of 2020, the same month the COVID-19 pandemic began to shut down our world, was a scary time for any business, and even more so for those trying to gain traction while starting up. For Josh, it was frustrating, he told me, because after months of preparations and excitement, expectations took a blow when he became stuck online.
But Spiffy Laces stayed standing, and Josh made use of social media and his website to grow his product and progress. When Bucks County began to slightly reopen, Spiffy Laces was given air to breathe. Some of Josh's most fun experiences of running Spiffy Laces include weekly pop-up shops he did during the warm months of 2020 and going to farmers markets to sell shoelaces, which his dad helped him get into.
When I asked Josh if he was trying to make his unique shoelaces a "trend", he subtly winced. His vision is less about getting people to style their shoes because of what other people think, and more about the individual buying shoelaces because they connect with the style personally. And as his website puts it, he wants "you to love your shoelaces".
"Be yourself" is an important theme in Josh's vision for Spiffy Laces, as well as for himself personally and socially. That's part of what seems to draw him to an entrepreneurship career. He's not bent on keeping Spiffy Laces as the focus of his career in the future, but he likes the ability to make his own decisions like what he is doing now.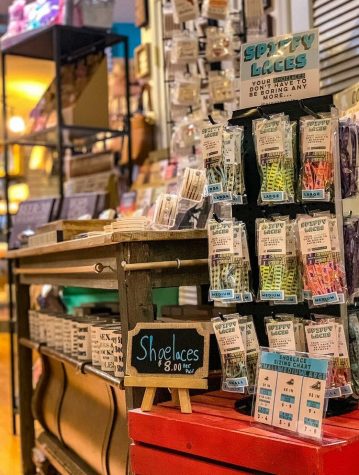 That's not to say Josh doesn't have plans for Spiffy Laces going forward. Next year, in fact, he is planning to move to Hawaii and take a Gap Year—in part to gain residency-status for University of Hawaii at Manoa, but also to spend time building his business and gaining exposure.
As he told me, this plan presents challenges like the fact that "not many people wear shoes in Hawaii", but he sees this as an opportunity to expand his brand to more variety than shoelaces. Also, he hopes to make Spiffy Laces a business that can be supported and run from anywhere, maintaining sales "on the mainland" while operating in Hawaii.
Josh has recorded over 600 sales with Spiffy Laces being sold in six locations, including Native Café and Nomad Supply Company (a personal favorite of mine) in Doylestown. He loves coming up with new ideas, and he sees it as a hobby. But he also enjoys photography, biking, hiking, views, hanging out with his girlfriend and friends, and simply being outside. His center of gravity is the desire to be himself, and the vision for his business aligns with that.
For more on Spiffy Laces, follow @spiffylaces on Instagram, check out and shop on his website, spiffylaces.com, and make sure to sign up for his email list for "sneak-peaks" and more.