Opinion: The Problem with Lenape Middle School's Mascot
Lenape Middle School must change their mascot and student body name. Using "Indians" as a name is racially insensitive and inappropriate for a school to use as a name to refer to any teams, clubs, student body, or the like. Lenape Middle School occupies land that belonged to the Lenni-Lenape tribe. Their sports teams use the term "Indians" to represent themselves, and the name is often written on their uniforms. Some past clothes purchased by students even have an illustration of a Native American, as well. But there is a growing movement to remove and replace Native mascots and team names. For example, the Washington football team and the Cleveland baseball team have removed their Native-themed names and mascots, acknowledging the issues. Lenape Middle School should be no exception to this cause. No matter if a name is for a national sports team or a small secondary school, it should not be referencing Native people in a harmful way.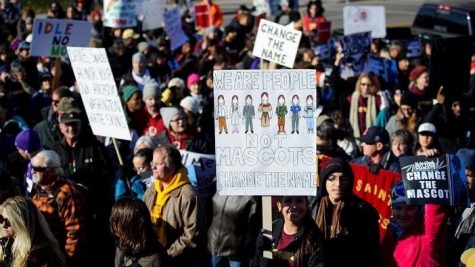 Lenape Middle School uses the name "Indians" in reference to Native Americans. The school is located on land that historically belonged to the Lenni-Lenape people. However, using the name "Indians" is neither positive nor respectful to the Native American tribe. "Indians" is an inaccurate word to use and an ethnic group should not be someone's mascot. Even if there is no one dressing up as the "Indian" mascot, the name is still used in reference to sports teams and parts of the student body.
Native mascots and names can be detrimental to Native students and people. Images of Native mascots have been proven to negatively affect Native American students and their self-esteem. In fact, in 2005, the American Psychological Association called for removal of all Native American mascots and imagery used by schools and other groups. There have been calls in the past to change the Lenape mascot, and now is an important time to keep amplifying them. It is time to follow the examples of others. 
Lenape would be far from the first to change their name and mascot, but they should not be the last either. No More Native Mascots has a long list of petitions available to sign in support of ridding schools and teams of offensive Native mascots. It includes many high schools, and shows that many students are actively trying to change their mascots. Lenape's name and mascot are not isolated occurrences. Too many like Lenape's exist. However, it is not impossible to achieve the goal of changing names and mascots. Hopeful students can look to the changing of, or plans in motion to change, national sports teams' names. The Washington football team and the Cleveland baseball team are two such examples. After many called for their former name, which is a racial slur, to be changed, the Washington football team took away their name and mascot. The Cleveland baseball team is setting the process for changing their name in motion. If national sports teams can change their names and listen to protests, surely a local middle school can too. It is not a new idea to change Native mascots and names for schools, and not one that should be put off any longer.
Leave a Comment