Student Interview: Teddy Spratt
Teddy Spratt is a CB West Senior and plans to attend Millersville University to continue his academic and athletic pursuits.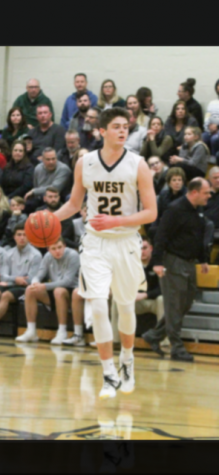 Teddy and I met in CCD class at Our Lady of Mt. Carmel when we were in 4th or 5th grade. We met up again in 10th grade here at CB West.
MRB: What is your favorite position in basketball?
TS: My favorite position playing basketball is point guard. I started playing it this year and have really enjoyed it.
MRB: What are your plans after high school?
TS: I recently just committed to Millersville University to play basketball and receive a good education.
MRB: What is on your playlist to get ready for the game? 
TS: I listen to Young Thug, Future, and Juice Wrld before my games.
MRB: What is your favorite pre-game meal?
TS: My favorite pre-game meal is grilled chicken .
MRB: What do you do in your free time?
TS: In my free time I'm either shooting hoops or hanging out with friends and family.
MRB: What has been your hardest class at West?
TS: My hardest class at west was Algebra.