Evaluating the Eagles' Future After a Win in Week 14
Jalen Hurts looked good, but will he prove good enough to take the starting job from a struggling Wentz? Will Jack investigates.
Jalen Hurts made his debut for the Philadelphia Eagles and quickly added fuel to the fire of Philadelphia's quarterback controversy. With 167 passing yards and another 106 yards on the ground, Hurts led the Eagles to an upset over the Saints, who had entered the week with the NFC's top seed. 
An Eagles team that consistently struggled on offense throughout the season looked completely different, with Hurts replacing the struggling Carson Wentz. Wentz leads the league in both turnovers and sacks taken; Hurts only turned the ball over once and didn't take a single sack. These numbers came against the New Orleans Saints' top ranked defense. Plenty of long-term questions remain for the Eagles situation, but the question of who starts for the rest of the season seems to be answered. 
So what should people think of Philly's quarterback situation after one week?
"Wentz was the problem" is not what people should take away from this game. The Eagles did many things differently in this game besides switching their quarterback, including putting on a brilliant defensive performance. Jim Schwartz's defense prevented New Orleans Saints quarterback Taysom Hill from using his dangerous running ability, and it punished him with 5 sacks. 
The expensive offseason acquisition Javon Hargrave has been making an impact in recent weeks and continued to dominate with 2 sacks and a fumble recovery. Josh Sweat has been emerging as a dangerous edge rusher for the Eagles and added 2 sacks along with a forced fumble. The Eagles' defense also got their first interception in weeks, as linebacker Duke Riley picked off a ball that bounced off of Saints running back Alvin Kamara. This was their first interception since picking off New York Giants quarterback Daniel Jones in week 7. 
Although the attention was centered on Philly's quarterback change, its improving defense had a significant impact on the game.
The offense indeed looked better with Hurts in the lineup. Hurts's rushing ability added another dimension to the Eagles' offense that they lacked with Wentz. A heavily-injured offensive line and receivers who struggle to get open contributed to Wentz's struggles; however, Hurts's ability to take off when he saw something that he didn't like provided something that Wentz couldn't. An offense that often has difficulty creating opportunities for easy completions functions better with such a mobile quarterback. 
The Saints' elite run defense was picked apart by the Eagles' rushing attack, which saw Hurts and running back Miles Sanders combine for 32 carries and 221 yards. Sanders had an 82-yard touchdown just before halftime. The Eagles offensive line also looked much better than it had in previous weeks partially due to the absence of guard Jason Peters. The 38-year-old Peters had been playing through a toe injury and was a liability in recent weeks, constantly giving up multiple sacks each game. But Coach Doug Pederson's game plan kept things simple, and played to Hurts' strengths.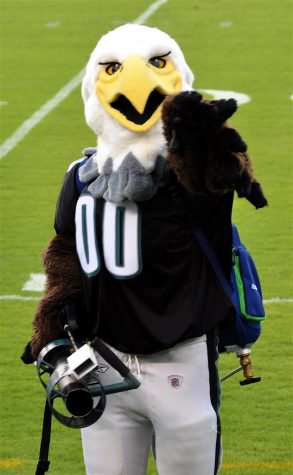 Pederson established a balanced offense and let Hurts roll out of the pocket to use his mobility. The Saints had the top ranked defense in the league, so Hurts' game was certainly impressive for a rookie in their first career start.
Hurts was predictably named the starter for the Eagles' next game against the Arizona Cardinals, and it's his job to lose for the remainder of the season. However, a good showing by Hurts to close out the season could create a long-term quarterback issue in Philly. 
Eagles executive Howie Roseman still views Wentz as their quarterback of the future, despite drafting Hurts in the second round in 2020. This was just a few months after signing Wentz to a $128 million extension and watching him lead the Eagles to the playoffs. Doug Pederson still sees Wentz's potential, but has always done his best coaching players other than Wentz. 
Pederson and Wentz seem to be incompatible. The question now is who the Eagles will keep if they continue to succeed without Wentz. The Eagles have to win their next two games and hope the Washington Football Team and New York Giants lose at least one of their next two. If this happens, the Eagles and Football Team would face off for the NFC East title in week 17. 
If the Eagles find a way to make the playoffs or win their remaining 3 games, the quarterback debate will be the focus of the offseason. Hurts's arm talent will be important over the next few weeks, as that is the most important trait of a quarterback in today's NFL. But Carson Wentz has proven that he is a top ten arm talent, and can win with a good supporting cast. 
Wentz finished third in MVP voting in his second year and had 81 touchdowns compared to just 21 interceptions over the previous 3 seasons. Hurts winning now might help his case, but he needs to display the traits of a modern star quarterback. 
Hurts might also give a better chance of winning right now, but making a decision about who gives you a better chance to win a championship with a solid team is difficult when you have a very small sample size (of one quarterback). 
Other looming decisions this offseason include whether or not Doug Pederson should stay in Philly if Wentz stays, and if Howie Roseman's recent struggles in drafting quality players should cost him his job. Roseman's close relationship with owner Jeffrey Lurie likely means he will stay with the team, but he could receive a demotion. 
The clock is running down: the Eagles may have just three more games before having to make franchise-altering decisions in the offseason.