Student Interview: Erin Stranix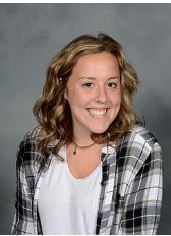 I met Erin Stranix in 7th grade at Lenape. Erin transferred in 9th to Archbishop Wood to play soccer. She returned to CB West in 10th grade.
My favorite memory from this year would be the bus rides to the away games. I love singing and dancing with my teammates right before the game. Covid cut our season short so we could only play 10 games instead of 18. But we made the most of the games that we could play.
MB: What was the biggest challenge when you transferred from Archbishop Wood  to CB West?
ES: My biggest challenge when I transferred would be getting used to the building and finding all my classes. I got pretty lucky and ended up having classes with my old Lenape friends.
MB: What music do you have on your playlist?
ES: I listen to all music, but my absolute favorite music is country music.
MB: What are your favorite subjects in school?
ES: My favorite subjects in school are Social Studies and any Art class.
MB: What are your plans after high school?
ES: After high school, I'm going to Mansfield University to play soccer and study Communications and Psychology, and I'm super excited!